Go ahead. Try and resist the eyes of a homeless dog or cat at the Lawrence Humane Society's Animal Fair on Sunday.
Midge Grinstead, the society's executive director, is hoping some people will feel compelled to adopt one of the more than 500 pets available at the animal shelter.
"I think most people have misconceptions about what shelter animals look like, but when they see they are healthy and nice and beautiful, then they will come over and look at the shelter," Grinstead said.
The Animal Fair will be from 10 a.m. to 5 p.m. in Building 21 at the Douglas County 4-H Fairgrounds. The shelter will have between 10 and 15 dogs, cats, rabbits and other animals at the event at all times. They will be rotated throughout the day with other animals at the shelter.
The Charles Ise Memorial Animal Shelter, 1805 E. 19th St., also will be open with hundreds of other animals available.
The annual event is a major fundraiser for the humane society, which offers the only full-service animal shelter in Kansas. Grinstead hopes to match the $10,000 raised last year.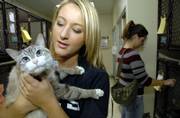 Grinstead said this time of year can be financially difficult. The shelter has housed 1,000 animals - its capacity - from April through October. The bills for animal injuries, food, medications and vaccinations typically add up.
There also will be about 40 vendors, including House Rabbit Society members, Petco employees and other animal rescue groups. There will be a bake and art sale. Pet owners can bring their animals for photos with Santa Claus or the Grinch.
"If you have an interest in any kind of animals at all - birds, reptiles, anything. It's just a great place to go to get information," Grinstead said.
Copyright 2018 The Lawrence Journal-World. All rights reserved. This material may not be published, broadcast, rewritten or redistributed. We strive to uphold our values for every story published.