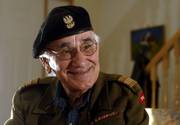 At the age of 15, Jaroslaw "Jarek" Piekalkiewicz and his cousin started a Polish resistance unit during World War II. It grew to include 100 members.
"I was commander in chief," said Piekalkiewicz, now an 80-year-old Lawrence resident. "We mostly focused on training and gathering weapons."
The Germans invaded Poland in September 1939 and defeated the Polish army in three weeks. At the time, Piekalkiewicz was placed in a school where he was in training to be a secretary. When five Germans entered his classroom one day, Piekalkiewicz thought they were coming to arrest him.
Piekalkiewicz said he ran across the room, dashing from desktop to desktop until he jumped out of a window.
"I nearly jumped on top of a policeman," Piekalkiewicz said. "He was so surprised. Then I ran."
Despite being shot at, Piekalkiewicz escaped into the country and eventually made his way to Warsaw. He later found out that the Germans had gone to his classroom not necessarily looking for him but to round up some slave labor.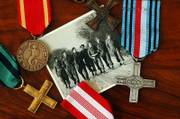 While in Warsaw, Piekalkiewicz and other resistance members fought the Germans in street-by-street battles during the summer 1944 uprising. The Russian army had neared the city, and the resistance fighters hoped to hold out until it arrived. The Russians never came, and the resistance folded.
"We ran out of ammunition and food," Piekalkiewicz said.
Piekalkiewicz became a prisoner. He and other prisoners were taken on a forced march into Germany. He tried to escape three times. Successful on the third try, he ended up working on farms until he was liberated by the Americans.
After the war, Piekalkiewicz eventually made his way to the United States and to Lawrence. He was a political science professor at Kansas University from 1963 until he retired in 2000.
Many of Piekalkiewicz's relatives also fought with the resistance. His father was one of its leaders and was tortured to death by the Germans. His mother, a lieutenant in the resistance, was captured and executed.
Sometimes the war memories still bother him.
"I am a different person," he said. "I think many of the veterans, when they talk about the war, especially if they were in hard fighting, it's like something that happened to somebody else, not to them."
Copyright 2018 The Lawrence Journal-World. All rights reserved. This material may not be published, broadcast, rewritten or redistributed. We strive to uphold our values for every story published.