After years of research and testing, a motorized pacifier that aids the development of premature newborns is about to reach more children.
"It's great if it can benefit lots of kids all over the world," said Steven Barlow, a Kansas University researcher.
KC BioMediX, a Kansas startup, has purchased the licensing on two tools, developed by Barlow and Don Finan of the University of Colorado, for helping babies learn the basic skills of how to suck.
The move marks the first medical device company spinoff from KU's Lawrence campus, according to KU.
"It is hopefully the first of many," said James Baxendale, KU's director of technology transfer and intellectual property. "Hopefully, it will generate some interest by others to come in and look at our technologies."
Barlow, KU professor of speech-language hearing, neuroscience and human biology, has spent 15 years conducting the research that led to the development of Actifier, a diagnostic tool that tests a baby's ability to suck, and NTrainer, a pacifier-type instrument. The NTrainer uses a silicone pacifier attached to computer-controlled sensors and a special motor. The device delivers a pattern of vibrations that mimic sucking.
"Those cues help the brain establish timing," Barlow said.
It's used for babies who need help in developing the ability to feed themselves.
Premature babies often spend their first weeks of life connected to oxygen and feeding tubes or fed intravenously. When these tubes are removed, they often struggle in the transition to feeding on their own.
"A lot of moms and dads go home with the youngsters having a nasogastric tube," Barlow said. "Sometimes the baby will pick up the suck feeding skill in two or three weeks, and sometimes it's two or three years. There are examples of kids that are still not 100 percent oral fed entering preschool."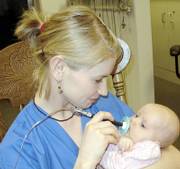 The NTrainer speeds that process, saving time at a precious stage in human development.
Delays in learning how to feed oneself have been linked to problems in developing motor skills and learning words and language, Barlow said.
The device has been tested on infants at Topeka's Stormont-Vail HealthCare.
Joy Carlson, a neonatal nurse practitioner at Stormont-Vail, said she's noticed that babies are going home sooner and fewer have to be sent home with feeding tubes.
"There really isn't anything that has helped these babies before," she said. "I think this is going to be very helpful."
Michael Litscher, a co-founder of KC BioMediX, said the company is developing prototypes of the system. The company hopes to begin selling the system, which will cost $125,000 each, in 2008.
Of the royalties KU receives, one-third go to the inventors, one-third to the department and one-third to KU's technology transfer and intellectual property office, Baxendale said. Another portion of the department's cut goes back to the inventor to support the research program.
Those close to the project say they foresee it being used in neonatal intensive care units throughout the country.
"It clearly meets a clinical need in the neonatal intensive care unit," Litscher said.
Copyright 2018 The Lawrence Journal-World. All rights reserved. This material may not be published, broadcast, rewritten or redistributed. We strive to uphold our values for every story published.