Kabul, Afghanistan — Violent anti-foreigner protests raged across the capital Monday after a U.S. military truck crashed into traffic, touching off the worst rioting since the Taliban's ouster. At least eight people died and 107 were injured before Kabul's streets calmed.
Chanting "Death to America," rioters stoned the U.S. convoy involved in the accident then headed to the center of town, ransacking offices of international aid groups and searching for foreigners in a display of rising resentment over civilian deaths in the war against insurgents.
Gunfire, at times intense, rang out across Kabul as hundreds of young men looted shops and set fire to police cars and station houses. Some people said U.S. and Afghan troops fired on the crowds. Officials said they couldn't say whether that happened.
The U.S.-backed Afghan government decreed a nighttime curfew and the city quieted before sunset. Yousuf Stanezai, an Interior Ministry spokesman, warned that anyone found outside between 10 p.m. and 4 a.m. would suffer "serious measures."
President Hamzid Karzai went on television Monday night to decry the outburst, branding the rioters as troublemakers who should be resisted and linking their violence to the long years of conflict that wrecked Afghanistan.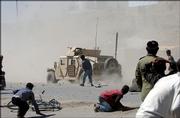 "We will recognize as the enemy of Afghanistan these people who do these things," Karzai said. "You should stand up against these agitators and not let them destroy our country again."
Patience with the 23,000 U.S. soldiers and other foreign troops in Afghanistan is fraying over recent deaths of civilians, including at least 16 people killed by an airstrike targeting Taliban fighters in a village last week.
The civilian deaths have come during some of the fiercest fighting since a U.S.-led coalition drove the Taliban religious militia from power at the end of 2001, after the regime refused to hand over Osama bin Laden and close al-Qaida camps after the Sept. 11 attacks.
Much of the bloodshed is in the south, where officials reported a battle Monday killed six militants and wounded five Canadian soldiers. Elsewhere, warplanes of the U.S.-led coalition bombed a suspected Taliban meeting late Sunday and dozens of militants were reported killed, Afghan authorities said.
While most Afghans support the presence of foreign troops to stabilize a country devastated by a quarter century of war and civil conflict, many also harbor resentment at the outsiders.
Those feelings have surfaced with increasing regularity in the past year, during violent protests over allegations the Quran was desecrated at the U.S. prison at Guantanamo Bay and the publication in European newspapers of cartoons depicting the Prophet Muhammad.
"We don't want Americans in our country. They don't care about poor people. They killed innocent people today and this is not the first time," said Abdul Shakoor, a 28-year-old who joined in the protests after Monday's traffic accident. "They do it all the time and in the end they say it was a mistake. It's not acceptable to us anymore."
The U.S. military expressed regret for the crash, which it said occurred when a mechanical malfunction sent a large cargo truck careening into about a dozen vehicles at an intersection. The military was investigating the incident.
Copyright 2018 The Associated Press. All rights reserved. This material may not be published, broadcast, rewritten or redistributed. We strive to uphold our values for every story published.