There was no tension in the Naismith Room of the Booth Family Hall of Athletics on Monday morning as Kansas University's baseball players and coaches - as well as athletic-department members - gathered to watch the NCAA Tournament selection show on ESPN.
The Jayhawks - by virtue of Sunday's 9-7 Big 12 Conference tournament championship victory over Nebraska - knew they had earned an automatic bid and would be included in the field of 64.
Monday was merely for learning the particulars.
Members of the country's No. 22-rated team applauded robustly when it was revealed the Jayhawks had been awarded a spot in the Corvallis, Ore., regional.
KU (42-23) will meet Hawaii (43-15) in a first-round regional clash at 2 p.m. CDT Friday at Goss Stadium on Oregon State University's campus.
Host Oregon State (39-14) will meet Wright State (32-25) in the other first-round game at 7 p.m.
The winner of the double-elimination tourney heads to super-regionals the following week.
"My wife just said, 'You are going home.' It's amazing," said KU coach Ritch Price, born and raised in Sweet Home, Ore., located just 30 miles from Corvallis. "To go back to Oregon, so close to my hometown, it'll be interesting."
Though Price will be happy to see his high school coach and college coach (Willamette University is located in nearby Salem), plus a plethora of friends, he would have preferred to be assigned elsewhere.
"To be honest with you, I actually wanted to go to an ACC school or SEC school. Our team plays with incredible confidence when we go on the road and there's 7,000 rooting against us. These guys rise to the occasion," Price said.
Goss Stadium seats 2,000 fans.
"It'll be tough," Price said.
Pac-10 champion Oregon State is ranked fifth in the country in the current Baseball America poll. KU is 22nd. OSU is fourth in the Collegiate Baseball poll; KU is unranked.
"We knew we'd have to go on the road, whether it be an ACC school, SEC or Pac-10, and we'd have our hands full," Price said.
"This team is capable of going to Oregon State and winning. We're swinging the bats as well as anybody in the country. If we pitch this week as well as last week, we have a chance. They (Beavers) have tremendous pitching. What we're doing is worrying about beating Hawaii first. We win the first, then it sets you up for the second."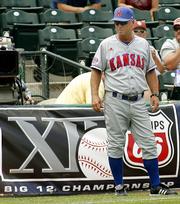 The Jayhawks went 4-0 at last weekend's Big 12 Tournament, claiming the school's first conference baseball crown since 1949, when KU won the Big Seven trophy with an 11-7 record.
They are just happy to be in the NCAAs for the first time since 1994.
"Before we watched the show, I was talking to my dad on the phone," Big 12 tourney MVP Matt Baty said. "I was either thinking Fayetteville (Ark.), since it's within 500 miles, or thought we'd be in the Northwest somewhere and that'd be at Oregon State.
"It will be nice to see coach's old stomping grounds. We were giving him some crud (before the show) about being from the Northwest."
The Jayhawks feel confident heading into regional.
"Everybody's goal is to go to Omaha (site of the College World Series)," Baty said. "There's still a long trip to go, a lot of battles. The best team will come out on top."
KU hopes it will be the team to come out on top again as it did last weekend.
Corvallis (Ore.) Regional
At Goss Stadium At Coleman Field
Friday's games Game 1 - Kansas (42-23) vs. Hawaii (43-15), 2 p.m. Game 2 - Wright State (32-25) at Oregon State (39-14), 7 p.m.
Saturday's games Game 3 - Game 1 loser vs. Game 2 loser, 3 p.m. Game 4 - Game 1 winner vs. Game 2 winner, 8 p.m.
Sunday's games Game 5 - Game 3 winner vs. Game 4 loser, 3 p.m. Game 6 - Game 4 winner vs. Game 5 winner, 8 p.m.
Monday's game Game 7 - Game 4 winner vs. Game 5 winner, 4 p.m., if necessary
"I think it's a great statement about the direction our program is headed," fourth-year KU coach Price said of winning league and making the NCAAs. "We've tried to raise the bar. From the day I got here : our goal from Day One was to make the NCAA Tournament. It's a great feeling of accomplishment, fantastic. Now we want to go to regional, win a regional and move up to super- regional."
¢ OSU coach not thrilled: Oregon State coach Pat Casey on Monday was not pleased his Pac-10 champion Beavers failed to receive one of the eight national seeds which went to Clemson, Rice, Texas, Alabama, Cal State Fullerton, Nebraska, Georgia and Georgia Tech.
This means if the favored Beavers win the Corvallis regional, they are most likely on the road for super-regional play - at Texas if the Longhorns take care of business and win their regional this weekend.
"When you win a conference like the Pac-10, you should be a national seed," Casey told the Corvallis Gazette-Times. "There has to be a lot more credibility put into being conference champions in big conferences than in RPIs. Certain regions of the country can build their RPIs up."
Casey gave the Gazette-Times the example of SEC team Mississippi State making the tournament despite losing 17 of its last 27 games. LSU, the fourth-place team in the SEC, didn't receive a bid.
"That will never happen in the West," Casey told the Gazette-Times. "That's the only thing that surprises me, and that's for a conference as prestigious as the Pac-10, the champion wouldn't be a national seed. I really believe we are national seed when you win this conference, but I also respect that the committee has a lot of work to do, and they have tough choices."
¢ Big 12 well represented: Seven Big 12 teams made the 64-team field.
Oklahoma State will play in Fayetteville, Ark., with Arkansas, Princeton and Oral Roberts; Baylor will play in Houston with Rice, Prairie View and Arizona State; Texas will play in Austin with N.C. State, Texas-Arlington and Stanford; Oklahoma will play in Norman with Wichita State, Houston and TCU; Nebraska will play in Lincoln with Miami, Manhattan and San Francisco; Missouri will play in Malibu, Calif., with Pepperdine, UCLA and UC Irvine.
¢ MU off to Pepperdine: The Jayhawks groaned good-naturedly when it was announced Missouri was headed beautiful Malibu, Calif., for regional play. KU tripped the Tigers in the semifinals of the Big 12 tourney last weekend.
Copyright 2018 The Lawrence Journal-World. All rights reserved. This material may not be published, broadcast, rewritten or redistributed. We strive to uphold our values for every story published.