Baghdad, Iraq — Two CBS News crew members and an American soldier were killed Monday during a wave of car bombings and shootings in Iraq that also killed at least three dozen other people. Network correspondent Kimberly Dozier was seriously wounded and underwent emergency surgery.
As parliament discussed the nation's disintegrating security, lawmakers pressed for the appointment of defense and interior ministers - seen as a necessary step toward Iraqi forces assuming more control.
At least eight bombings rocked the capital in the worst wave of violence in days. A car bomb exploded as a U.S. convoy patrolled in central Baghdad, killing veteran CBS cameraman Paul Douglas, 48; soundman James Brolan, 42; and an American soldier, U.S. officials said.
Dozier, 39, an American, was in critical condition at a U.S. military hospital in Baghdad, said Kelli Edwards, a CBS News spokeswoman.
Doctors said they were cautiously optimistic about her prognosis.
The CBS crew was on patrol with the 4th Brigade Combat Team, 4th Infantry Division, when the bomb exploded. The U.S. military said an Iraqi interpreter also was killed and six American soldiers were injured.
There were conflicting reports on whether the car was moving or parked.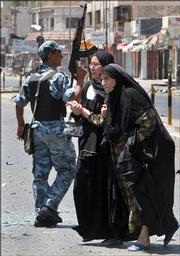 According to CBS and Iraqi police, the journalists were reporting outside their armored Humvee when the blast occurred just before noon in Tahariyat Square, a mixed area in south-central Baghdad. The blast collapsed the front end of the Humvee.
All three journalists were believed to have been wearing protective gear at the time, CBS said.
"These brave journalists risked their lives to tell the world the story of a courageous people and a proud nation," U.S. Ambassador Zalmay Khalizad said. "That story must and will be told."
Another group, Reporters Without Borders, said it was deeply saddened by the CBS crew deaths.
"The security situation is becoming more and more alarming for the press in Iraq," the group said.
At least 37 other people were killed nationwide, most of them in Baghdad.
The attacks began just after dawn, with one roadside bomb killing 10 people and injuring another 12 who worked for an Iranian organization opposed to the Tehran regime, police said.
That bombing targeted a bus near Khalis, 50 miles north of Baghdad in Diyala province, an area notorious for such attacks, provincial police said.
All the dead were workers at the Ashraf base of the Mujahedeen Khalq, or MEK. The group, made up of Iranian dissidents living in Iraq, said the dead were Iraqi workers heading to their camp.
A car bomb parked near Baghdad's main Sunni Abu Hanifa mosque killed at least nine Iraqi civilians and wounded 25, said Saif al-Janabi, director of Noaman hospital. It exploded at noon in north Baghdad's Azamiyah neighborhood and disintegrated the vehicle.
Copyright 2018 The Associated Press. All rights reserved. This material may not be published, broadcast, rewritten or redistributed. We strive to uphold our values for every story published.