The Kansas Highway Patrol identified a 33-year-old woman, a 4-year-old girl and an 11-year-old boy, all from Eudora, as the three people injured in the rollover accident Saturday afternoon on Kansas Highway 10 about two miles east of Lawrence.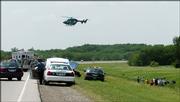 Maria Cobian was driving her 2000 Toyota 4Runner at 1:52 p.m. in the westbound lanes when she swerved to the north shoulder and back across both lanes of traffic and onto the south shoulder near the median, according to the accident report.
She tried to steer the vehicle back to normal, but it rolled several times and stopped on its top in the north ditch.
The two children, Luis Avila, 11, and Fatima Avila, 4, wore their seat belts, but troopers were unsure if Cobian wore one. Lawrence-Douglas County Fire & Medical workers extricated one person from the vehicle, Battalion Chief Doug Green said.
Cobian was flown by a LifeNet helicopter to the University of Kansas Hospital in Kansas City, Kan. Fatima was flown by a LifeNet helicopter to Children's Mercy Hospital in Kansas City, Mo., and Luis was taken there by an ambulance.
A hospital spokesman said Saturday evening that both children were treated and released. A KU Med nursing supervisor said a condition report on Cobian was unavailable.
Copyright 2017 The Lawrence Journal-World. All rights reserved. This material may not be published, broadcast, rewritten or redistributed. We strive to uphold our values for every story published.