Krakow, Poland — In a four-day pilgrimage to this bastion of Catholicism, Pope Benedict XVI is exhorting huge crowds of Poles to cling to their Christian values and traditions, even those "uncomfortable for modern man."
Among the cheering thousands, one group stands out: supporters of Radio Maryja, a controversial and enormously popular Catholic radio station that has been known to air anti-Semitic and xenophobic views.
Therein lies a dilemma for Benedict, in this most-significant foreign journey of his 13-month-old papacy.
With Poland, Benedict has chosen arguably the most devoutly Catholic country in Europe, a country where churches are still full on Sundays and large numbers of men and women continue to choose the priesthood or other religious vocations. The church exercised an enormously important role under long years of communism, helping Poles maintain a unifying solidarity and ultimately galvanizing a pro-democracy opposition.
But the church, like Polish society itself, is deeply divided, torn between right and left, and struggling to find its way in a fast-changing world.
"Stand firm in your faith," the pope told nearly one-quarter million people who attended an open-air Mass in Warsaw despite driving rain. "Hand it down to your children, bear witness to the grace which you have experienced so abundantly through the Holy Spirit in the course of your history. . . ."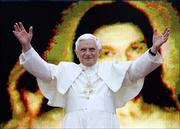 He warned listeners to resist what he called the modern temptation of "selective interpretation of Sacred Scripture."
The German-born Benedict concludes his Polish visit later Sunday with a pilgrimage to the Auschwitz Nazi death camp, a gesture that would leave no doubt about his zero-tolerance attitude toward anti-Semitism.
The pope's spokesman, Joaquin Vatican Navarro-Valls, said Saturday that it was Benedict's idea to add Auschwitz to the itinerary: "I could not not go," he quoted the pope as saying.
As he took this message from Warsaw to Krakow and, on Saturday, to Wadowice, the birthplace of his "beloved predecessor" John Paul II, Benedict attempted to bolster Poland's Catholicism as a deeply traditional faith that can thrive in spite of secular pressures.
Most problematic for the pope in Poland is that a current of xenophobia and isolationism, including a tendency to oppose deeper integration in Europe, runs through some of the country's most fervent Catholics.
Copyright 2018 The Lawrence Journal-World. All rights reserved. This material may not be published, broadcast, rewritten or redistributed. We strive to uphold our values for every story published.