It's not a complete makeover, but it's a start.
Kansas University in upcoming weeks will begin construction on a $3.5 million addition to Wescoe Hall.
And, in a break from tradition, the oft-criticized building is getting some praise.
"It's going to be beautiful," Paul D'Anieri, associate dean of KU's College of Liberal Arts and Sciences, said of the addition.
The south-side terrace will be enclosed and converted into two floors of office space. The project will add about 24,000 square feet of interior space to the building without changing its footprint.
The project, expected to begin in two to four weeks, should be finished in March, said Steven Scannell, assistant director of consultant services.
The departments of history and Spanish and Portuguese will move into the new area, which will have space for about 80 offices and some meeting rooms.
With rows of windows along the exterior, the addition will introduce a new style to Wescoe - one that may set the stage for future refurbishing.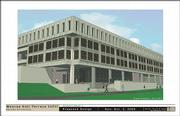 It's no secret that many believe Wescoe is a bit of an ugly duckling.
"It's definitely the ugliest on Jayhawk Boulevard," said Ryan Schumacher, a graduate student in history who works in Wescoe. Schumacher compared Wescoe to a minimum security prison and said the lack of windows makes it pretty gloomy.
"In some ways, it keeps out distractions because you're so isolated from the outside world, but it's also depressing for the same reason," Schumacher said.
KU in 2004 floated a plan to charge students a fee per credit hour for facilities in the College of Liberal Arts and Sciences. The fee would have gone toward a complete renovation of Wescoe, the construction of a new science building, and the renovation of parts of other buildings. It went to a student vote in 2005.
"It failed overwhelmingly," said Marynell Jones, a student leader who supported the plan. Jones said she thought the plan flopped because of a lack of understanding about the plan and poor timing. It was proposed as KU was in the midst of a significant tuition increase phase.
Whether the plan will rise again likely will be up to the new provost, Richard Lariviere, who started work Monday, and the incoming dean of the college, Joseph Steinmetz, who begins July 1.
More about campus renovations
The current project will be paid for with funds saved for the project over the last few years, said Lindy Eakin, vice provost for administration and finance.
It will relieve crowding that D'Anieri described as "desperate."
D'Anieri said teaching assistants are getting squeezed into increasingly close quarters and there are few places to put new faculty hires. Some departments are spread apart, making it harder for students to get what they need, he said.
Moving departments into their new spaces in the addition will allow KU to do some shuffling in preparation for a future Wescoe project - leveling and cleaning the bottom floor. The floor is expected to undergo some renovations, such as improved lighting and the creation of larger spaces, but that project won't happen until the addition is complete, D'Anieri said.
University Architect Warren Corman gave an update on some other KU construction projects:
¢ Hashinger Hall, which is being renovated, should be open for students in August.
¢ An addition to the Student Recreation Fitness Center is expected to get under way in the fall.
¢ Construction of the third phase of the Structural Biology Center on west campus is expected to begin in the winter.
Copyright 2018 The Lawrence Journal-World. All rights reserved. This material may not be published, broadcast, rewritten or redistributed. We strive to uphold our values for every story published.