Indianapolis — Pole-sitter Sam Hornish Jr. had a bit of a scare Sunday on a relatively uneventful Bump Day at Indianapolis Motor Speedway.
On the day the 33-car field was set for May 28 Indianapolis 500, Hornish was practicing in his backup car when he lost control and slid into one of the safety barriers lining the 2.5-mile oval.
Hornish was not injured, and the car he qualified Saturday with a four-lap average of 228.985 mph was sitting safely in the Marlboro Team Penske garage, but the crash was a nasty reminder of how tough the historic Brickyard has been on the two-time IRL IndyCar Series champion. In six starts, Hornish has crashed three times, failed to finish better than 14th and never completed more than 196 of the 200 laps.
Until he lost control while trailing Danica Patrick through a turn Sunday, Hornish had been almost perfect at the speedway this month, leading the speed charts on all but one day since practice began May 9. He was untouchable in time trials, posting the four fastest qualifying laps of the day, including two over 229.
Hornish didn't appear too upset after Sunday's accident.
"There's a certain amount of relief that it was today and not race day and that it's the (backup)," Hornish said. "But, still, I wanted to be able to go through this whole month and not have any white (wall) marks on my tires. Hopefully, we won't have any more problems.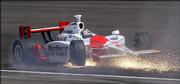 "The big thing for us to do is to go back and look at what happened today and try to make the car better and figure out how to not have this happen again."
Hornish won't be able to get back on track until Friday, during the two-hour "Carburetion Day," the only practice session between the end of qualifying and the 500-mile race. But he said that shouldn't be a problem.
"All that other stuff kind of goes out the window when you get out there and start racing again," Hornish said. "You have to kind of think of the things that went wrong and not have them happen again. I'm sure the first few laps (on the track) might be a little more cautious, but maybe that's a good thing."
Hornish said he was just working on perfecting a race setup.
Hornish's crash was the most exciting thing that happened through the first five hours of the six hour of track time Sunday.
The day began with only one spot open in the lineup and, among the non-qualified drivers at the speedway, only two-time Indy starter Marty Roth and rookie Thiago Medeiros had made laps this month.
Medeiros, in a backup leased by PDM Racing after he crashed his primary car on Thursday, ran 57 practice laps before finally making his qualifying run with only 50 minutes left before the 6 p.m. close of qualifying. He ran four steady laps at an average of 215.729, completing the field but placing himself "on the bubble" as the slowest car in the lineup.
Copyright 2018 The Associated Press. All rights reserved. This material may not be published, broadcast, rewritten or redistributed. We strive to uphold our values for every story published.