Six innings were in the books Friday, and Kansas University's baseball team still hadn't scratched out a hit.
Somehow, it didn't matter.
The 1-2 pitching punch of Kodiak Quick and Don Czyz came through again, lifting the Jayhawks to a 2-1 victory over Texas A&M; at Hoglund Ballpark. Never mind that Texas A&M; starter Jason Meyer flirted with a no-hitter.
Quick and Czyz were able to outpitch him - despite giving up seven hits.
"It took (Quick's) best effort of the season to find a way for us to win 2-1," Price said. "And Donnie comes in and does what Donnie always does."
So how do you win a game while getting shut down offensively?
For the Jayhawks, they benefited from Meyer's short bout with wildness - to the tune of four straight walks in the third inning, the last scoring Matt Baty. 1-0 Kansas.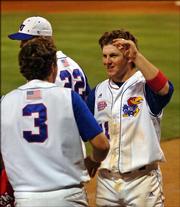 Quick, meanwhile, threw blanks for 6 2/3 innings before finally running into a bit of a jam. He was replaced by Czyz, who escaped the trouble and kept Kansas up by one heading into the bottom of the seventh.
That's where the Jayhawks got their first hit. Meyer pitched an up-and-in fastball that sophomore Ryne Price tatooed over the right-field fence. 2-0 Jayhawks, one hit to their credit.
"He smoked it didn't he?," Ritch Price said of Ryne's sixth homer. "He means so much to our lineup. That's the type of player he is. He's been a clutch hitter his whole life."
Czyz, meanwhile, did what he had to do in the final two innings, striking out two and giving up back-to-back hits that led to a meaningless run. He picked up his 16th save of the season - and seventh when relieving Quick.
"It feels great," said Quick, who improved to 10-4. "I was just telling (Czyz) after the game that I love to watch him pitch. It's a relief when I see him go into the game."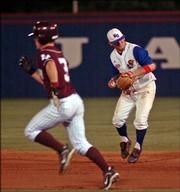 Kansas (36-23 overall, 11-14 Big 12 play) had one other hit - a double by John Allman in the eighth - but Friday's game proved, improbably perhaps, that offense isn't really needed when the pitching is so powerful.
"Kody came out and set the tone, threw up seven zero's," Ryne Price said. "Donnie comes in and does his thing. Not one person in our dugout, when he walks on the mound, thinks we're going to lose. He's proven it all year."
The key, then, is to make sure the game gets to Czyz, KU's All-America candidate at closer. Still fighting for a postseason berth, the Jayhawks needs at least one more victory against Texas A&M; (26-28, 6-18) to get the rewarding weekend feeling unfelt for close to a month now.
Friday, Price admitted, was just the start they were looking for.
"It's huge right there," Price said. "We've been struggling the last few weeks, and we need to get back to where we were mid-year."
Copyright 2018 The Lawrence Journal-World. All rights reserved. This material may not be published, broadcast, rewritten or redistributed. We strive to uphold our values for every story published.