Milford Township, Mich. — One of the most intense searches in decades for the remains of Jimmy Hoffa, the Teamsters leader who disappeared more than 30 years ago, began this week at Hidden Dreams Farm, the 65-acre facility previously owned by Hoffa associate Rolland McMaster.
Daniel Roberts, special agent in charge of the Detroit FBI field office, said Thursday that the search probably would take about two weeks and could require removing a barn in order to dig in a particular spot.
Roberts said the search began at 9 a.m. Wednesday. Investigators were looking for "the human remains of James Riddle Hoffa," according to the warrant.
Nothing significant had been recovered as of Thursday afternoon, he said.
Hoffa was last seen on a night he was scheduled to have dinner at a restaurant about 20 miles from the farm, which is just outside Detroit. He was supposed to meet with a New Jersey Teamsters boss and a Detroit Mafia captain, both now dead.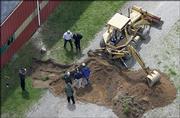 No trace of Hoffa has ever been found, and no one has ever been charged in the case. But investigators have long suspected that he was killed by the mob to keep him from reclaiming the Teamsters presidency after he got out of prison for corruption.
Mob figures used to meet at a barn at the farm before Hoffa's disappearance, authorities said.
Authorities brought in earth-moving equipment, led cadaver-sniffing dogs across the property and called in anthropologists and archaeologists from Michigan State University.
The farm, which according to its Web site provides breeding and boarding services and riding lessons, was working Thursday. People dressed in riding gear could be seen leading horses.
Reporters were not allowed onto the property, which is surrounded by a white wooden fence just off a dirt road. Images from news helicopters showed about a dozen people, some with shovels, standing by an area of newly turned dirt about 10 feet by 15 feet.
Over the years, Hoffa's disappearance spawned endless theories - that he was entombed in concrete at Giants Stadium in the New Jersey Meadowlands; that he was ground up and thrown to the fishes in a Florida swamp; that he was obliterated in a mob-owned fat-rendering plant that has since burned down.
In 2003, authorities searched beneath a backyard pool a few hours north of Detroit but turned up nothing. The following year, they pulled up the floorboards on a Detroit home and found bloodstains, but the blood was not Hoffa's.
A law enforcement official in Washington said the latest search was based on information developed several years ago and verified more recently.
Among other things, there was a high level of suspicious activity on the farm the day Hoffa vanished, the official said, speaking on condition of anonymity. A backhoe appeared that day near the barn organized crime members had used for meetings, and that location was never used again, the official said.
McMaster, the longtime Teamsters official who once owned the farm, is now 93. His lawyer, Mayer Morganroth, said he doubted the FBI would find anything.
"That farm was looked at with a fine-toothed comb in the '70s, when Hoffa was missing," Morganroth said. "There's nothing there."
Copyright 2017 The Associated Press. All rights reserved. This material may not be published, broadcast, rewritten or redistributed. We strive to uphold our values for every story published.