Cleveland — Casey Blake can't remember the last time he beat out a bunt - or was leading the league in hitting.
Blake drove in two runs and extended his career-high hitting streak to 15 games to help lift the Cleveland Indians to a 6-5 victory over the Kansas City Royals on Thursday.
"I don't really know why I did it," Blake said of his surprise bunt single in the second inning. "I guess when you feel confident, you just do things without second-guessing."
Blake also had a two-run single in the third inning and is hitting a major-league best .370 after batting only .241 a year ago to lower his career average to .255.
Aaron Boone also had two hits as the Indians won their third in a row after a six-game losing streak and handed Kansas City its sixth straight loss. The Royals have lost seven straight on the road and are 2-20 away from home.
Manager Buddy Bell said he didn't believe the Royals' road woes had become a mental block - yet.
"We can't fall into that trap," he said. "It's still early in the season. If we get caught up in that, it will only make it worse."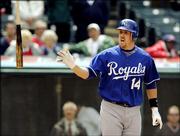 Kansas City also fell to 0-9 in day road games and 0-10 overall against left-handed starters.
Cliff Lee (3-4) overcame a first-inning dizzy spell to pitch six-plus innings for the win, avoiding a career-high fourth straight loss and improving to 7-2 in his career against the Royals.
"Fortunately, we scored enough runs to win it," said Lee, who allowed four earned runs and eight hits. He struck out seven and walked three - including the first two batters of the game.
"I didn't know what was going on," Lee said. "I felt dizzy and couldn't throw a strike."
Lee said he felt fine after drinking Gatorade and eating a power bar after the first inning.
"It was strange, like maybe my blood sugar was low or something," he said. "But I got over it, and it's nothing major."
Bob Wickman worked the ninth for his seventh save and 23rd in a row since Aug. 6.
With two runners on and two outs, Wickman went to a 3-2 count against John Buck, who came to bat hitting .476 (10-for-21) against Cleveland this season. But Buck watched a high curveball go past for a strike to end it.
Royals starter Runelvys Hernandez (1-3) gave up five runs and seven hits over 31â3 innings. Blake's two-run single put Cleveland ahead in the third, and Ben Broussard followed with an RBI single to make it 4-2.
"I was just trying to get a hit for my team," Blake said. "You look at the swing, and it wasn't pretty. Sometimes, hits just fall in."
Bell said that Hernandez would be examined by team doctors today.
"He had a cramp under his armpit," said Bell, who went to the mound with the team trainer to check on the right-hander in the second. "I thought in the first inning his velocity was good. He said he was fine, but then he struggled."
Copyright 2018 The Associated Press. All rights reserved. This material may not be published, broadcast, rewritten or redistributed. We strive to uphold our values for every story published.