A certain melancholy rode the gentle breeze late Wednesday night at the Free State High baseball diamond, where the victorious players smiled, posed for pictures and looked ahead nine days to the state tournament in Wichita.
There's always something sad about watching a terrific high school team do something for the last time together, and in this case that something was play a game at its home field. The Firebirds certainly didn't look at it that way. It probably didn't even occur to them after they followed a 13-3 victory over Leavenworth with a 15-0 pounding of Washburn Rural, scoring the final 28 runs of the night.
They viewed the remarkable night of dominance as a step toward a prize they covet, what would be Free State's first baseball state title and second state title in any sport, joining the 2004 boys swim team.
That's where FSHS coach Mike Hill's head was and will be for the next nine days. Still, he allowed himself to look back for a moment, knowing the next time he coaches a game at the school he won't have the eight seniors who've won so many games for him.
Hill looked back to a time when his senior shortstop, Robby Price, was his freshman second baseman.
"He weighed 105 pounds," Hill said. "He was a hat playing second base."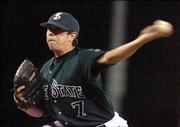 What a cool way to word a memory.
When Hill first looked at Price, he wasn't sure he'd be ready for varsity just yet. Then he watched him at the first practice.
"Once I saw that, it was a no-brainer," Hill said. "He just had so much savvy for a high school player. He led the team in hitting that year."
For the fourth year in a row, Price is headed to the eight-team state tournament.
Price is headed for Kansas University, where he'll play for father Ritch, replace brother Ritchie and form a double-play combination with brother Ryne. It's tough to go to a baseball game in Lawrence without seeing an Ice or a Price, and the Firebirds have one of each at the top of the order, with Travis Ice batting in the No. 2 hole. Ice is headed for Allen Community College, where he'll team with No. 3 hitter Brett Lisher, a loud gap hitter.
Cleanup hitter Scott Heitshusen, who doubles as the closer - not many high school pitching staffs have enough depth to allow such specialization - is bound for Hutchinson CC, where he'll be joined by pitcher John Sneegas. No. 5 hitter Lorenzo Ricketts will play baseball at Butler County CC, lefty ace Travis Blankenship at Johnson County CC.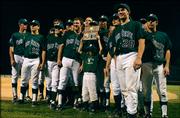 This is one exceptionally talented high school baseball team, blessed with power at the plate and savvy on the mound. And it's a team full of ballplayers who enjoy spending time together.
"The state championship game sting of '04 is still there," Hill said of the one-run loss in extra innings.
Mostly though, it's been great memories with the greatest yet to come, he hopes.
"What you remember are the times you've had with the kids on the practice field, in the hallways, the vans to and from the games, the bus trips," he said.
The Firebirds conclude their time together in Wichita on artificial grass, determined to make the fourth time the charm. Don't think they can't do it.
Copyright 2017 The Lawrence Journal-World. All rights reserved. This material may not be published, broadcast, rewritten or redistributed. We strive to uphold our values for every story published.