Cleveland — Travis Hafner rounded the bases with his arms held high and a triumphant look on his face.
Hafner's game-winning, two-run homer in the ninth gave the Indians a 6-4 win over the Kansas City Royals on Tuesday night and broke Cleveland's six-game losing streak.
"Just putting the streak out of the way is big," said Hafner after his first career game-ending homer. "I went up there excited to hit in that situation."
Grady Sizemore led off the ninth with a game-tying homer off Ambiorix Burgos (1-2) into the Indians' bullpen in center field. It was Sizemore's third homer and fifth hit in eight career at-bats against Burgos, who blew his third straight save opportunity.
"I think we knew then that we were going to win," Sizemore said. "I was just trying to do something to get us going, but when I saw it go out, I was pretty fired up."
Burgos walked Jhonny Peralta, and left-hander Andrew Sisco was summoned to face the lefty Hafner, who hit his 12th homer of the season to center.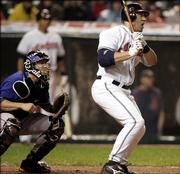 "If you make a bad pitch to a good hitter, you don't get lucky very often," said Sisco. "I didn't get lucky tonight. He's one of the best left-handed hitters in the game. It was a fastball and it was a strike - that was the problem."
Hafner, who went 3-for-4 with three RBIs, thought he had broken Cleveland's losing streak Sunday, but his long drive with two on and two outs in the bottom of the ninth was caught on the warning track in a 3-2 loss to Detroit.
"I hit them both about the same, but the wind was blowing in Sunday," he said. "Tonight, Grady took off all the pressure. I went up there and said to myself, 'Let's hit one and get out of here.'
"But I was fortunate to hit a homer."
Kansas City's fourth consecutive loss dropped the Royals to 2-18 on the road, tying the worst 20-game start away from home ever. The Houston Astros were the last team to start 2-18 on the road, and they rebounded to go to the 2005 World Series.
Jason Davis (2-1) pitched a scoreless ninth for Cleveland, which won for just the second time in its last eight home games.
"We were pressing a bit," Sizemore said. "It's been kind of tight in the dugout the last few games."
Copyright 2017 The Associated Press. All rights reserved. This material may not be published, broadcast, rewritten or redistributed. We strive to uphold our values for every story published.