Mount Merapi, Indonesia — Thousands of people fled the fertile slopes of Indonesia's most dangerous volcano Saturday as glowing lava oozed down the side and ash and rock spewed from the mountaintop, leading authorities to warn that an eruption could come soon.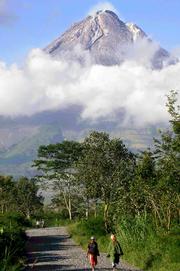 Villages on Mount Merapi were left virtually empty, although some residents returned to its slopes today to tend their animals and crops.
Police manned roadblocks today preventing vehicles from getting within six miles of the volcano's crater, but they allowed villagers to return to tend to land and animals, advising them to leave again by nightfall.
On Saturday, women, children and the elderly filled buses and trucks to be driven to shelters set up at government buildings and schools in nearby towns on the island of Java.
"If it is safe, then we will go home," said Selamat, a 34-year-old staying in a government office transformed for 500 people. Women prepared breakfast in a common kitchen and washed their children's clothes.
Throughout the day Saturday, volcanic tremors shook the ground, some strong enough to send people running in fear. After nightfall, fiery magma from the volcano's cauldron lit up the bottoms of clouds above the nearly 9,700-foot peak, and cascades of bright red stones tumbled down the mountainside.
Many people already had evacuated from homes closest to Merapi's crater after the volcano recently emerged from several years of relative quiet, but authorities said as many as 7,000 living farther down the slopes had refused to go and leave behind precious livestock and crops.
It wasn't clear how many of those obeyed the government's evacuation order Saturday.
Copyright 2018 The Associated Press. All rights reserved. This material may not be published, broadcast, rewritten or redistributed. We strive to uphold our values for every story published.