AUBURN HILLS, MICH. — LeBron James almost made the Detroit Pistons regret getting bored.
James scored 23 of his 30 points in the second half, but Rasheed Wallace had 29 points and Tayshaun Prince added 20 to lead Detroit to a 97-91 victory over the Cleveland Cavaliers on Tuesday night - and a 2-0 lead in their second-round series.
"We had the game going through three quarters, and we got a little lax," Detroit's Chauncey Billups said. "We came away from our defensive scheme, and LeBron started to hurt us."
James didn't reach double figures until midway through the third quarter, then he led a fourth-quarter rally with jumpers and driving layups through a sea of Pistons.
Cleveland pulled to 87-78 after a 10-2 run before Ben Wallace made a fadeaway shot off his own miss and Rasheed Wallace followed with a three-pointer, forcing the Cavs to call a timeout down by 14 points with 4:31 left.
James wouldn't let the Cavs go away.
His three-point play made it 92-87 with 1:13 left, but Richard Hamilton scored a three-point play on the ensuing possession and both players traded free throws in the final seconds.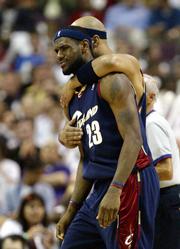 "We kept our composure and gave them a run for their money," James said.
For three-plus quarters, it didn't look like there was much James or the Cavs, who advanced in the playoffs for the first time since 1993, could do against the two-time defending Eastern Conference champions at either end of the court.
After leading by just two points, Detroit took control of Game 2 - and perhaps the best-of-seven series - with a 13-0 run late in the first quarter and early in the second. The burst grew to 19-3 and the Pistons led by 18 before the Cavs ended a field-goal drought that lasted more than seven minutes.
"Our guys have the ability to lock down," Detroit coach Flip Saunders said. "As a coach, you hate the term 'Flip the switch,' but there's no question they have the ability to do that."
The Pistons were coasting until the Cavs suddenly showed signs of life midway through the fourth quarter.
The Cavs - who lost Sunday by 27 points in a game that wasn't as close as the score indicated - will have plenty of time to search for a solution to turn the series around because Game 3 isn't until Saturday in Cleveland.
Cleveland's Drew Gooden had 17 points, Zydrunas Ilgauskas scored 10 and reserve Anderson Varejao also added 10.
Mavericks 113, Spurs 91
San Antonio - So much for San Antonio's "bear-hug defense." The way the Dallas Mavericks ran over them in Game 2, the Spurs might need the consoling kind of embrace.
Sparked by speedy Devin Harris starting at point guard and showing more aggressiveness on both ends of the court, the Mavericks charged to a 21-point lead before halftime and cruised past the defending champions 113-91 Tuesday night to even their second-round series at one game apiece.
Dallas broke things open with a 15-3 run in the second quarter. San Antonio let things get out of hand by not making a basket the last 6:59 of the period, missing its final nine shots.
About the only good news for the Spurs is finally getting some rest. With Game 3 not until Saturday, San Antonio will be able to recover from three games in five days. Coach Gregg Popovich was expected to give his players the day off Wednesday.
Josh Howard epitomized Dallas' take-it-to-the-rim approach and led the team with 27 points. The Mavericks are now 20-0 when he scores 20 points.
Copyright 2018 The Associated Press. All rights reserved. This material may not be published, broadcast, rewritten or redistributed. We strive to uphold our values for every story published.