Lawyer Ron has a slight ankle injury and is unlikely to challenge Kentucky Derby winner Barbaro in the Preakness.
"Looks like we probably aren't going to come," trainer Bob Holthus said Tuesday from Churchill Downs, where Lawyer Ron finished a disappointing 12th in Saturday's Derby.
"We looked at the X-rays and saw some inflammation in the right hind ankle. Unless something good happens before Saturday, it doesn't look favorable."
That's one less opponent undefeated Barbaro has to deal with in the 13â16-mile Preakness, the second leg of racing's Triple Crown.
Lawyer Ron came into the Derby with a six-race winning streak, including a victory in the Arkansas Derby. A majority interest in the colt was sold for an undisclosed price two days before the Derby.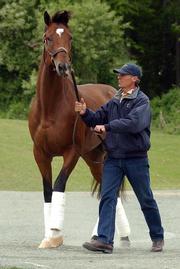 Meanwhile, Barbaro was back home at the Fair Hill Training Center in Elkton, Md. The Derby winner returned to the center Monday after a 12-hour van ride from Louisville.
On Tuesday, the colt was hand-walked for about 30 minutes and then grazed for another half hour.
"He's doing very good right now," Matz said. "He shipped very well from Churchill. Our plans are to take him and jog him (Wednesday)."
A small field of about seven or eight 3-year-olds seems to be shaping up for the Preakness.
High Finance was thrown into the mix Tuesday. Owned by West Point Thoroughbreds, High Finance won an allowance at Belmont Park last Thursday, and would be running in his first stakes race.
Copyright 2018 The Associated Press. All rights reserved. This material may not be published, broadcast, rewritten or redistributed. We strive to uphold our values for every story published.