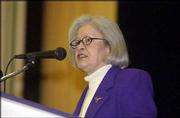 Haskell Indian Nations University President Karen Swisher announced today that she plans to retire in December or January.
"It's been a privilege to serve the university," Swisher said. "And I want to thank all of those who had confidence in me and who encouraged me to take this job."
Swisher, 62, came to Haskell in 1996. She has been president for seven years.
Swisher, a member of the Standing Rock Sioux Tribe in North Dakota, said her decision was driven by two factors:
* "I've been working since I was 21 - that's 42 years, that's long enough."
* "We're getting near the end of the five-year strategic plan that I helped developed, so the timing is right."
Swisher announced her decision at the conclusion of the Haskell board of regents meeting today.
Copyright 2018 The Lawrence Journal-World. All rights reserved. This material may not be published, broadcast, rewritten or redistributed. We strive to uphold our values for every story published.