Heather Stanley made her last game in Arrocha Ballpark a memorable one.
Stanley snapped out of a slump with two hits, scored two runs and drove in another Sunday as Kansas University blanked Iowa State, 3-0, in Big 12 Conference softball.
"I couldn't remember the last time I had a hit," said Stanley, one of six KU seniors who bowed out at home.
Stanley had collected only one safety in her last 19 at-bats and two in her last 32 trips to the plate before erupting Sunday.
The senior outfielder-designated hitter from Houston singled in a her first at-bat in the fourth and later scored on an error. In the fifth, she singled in a run and scored.
"I'm very happy for her," KU coach Tracy Bunge said. "Heather pulled herself together and looked like a different hitter. She came out of it today."
In the seventh inning, Stanley was robbed of a third hit when ISU center fielder Fallon Johnson sprinted into the gap to spear a rocket off Stanley's bat.
Photo Gallery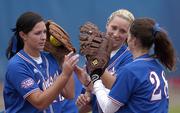 Kansas softball vs. Iowa State
"I'm proud of the whole team," Stanley said, "and that six of our eight hits were by seniors."
Destiny Frankenstein also had two of the Jayhawks' eight singles. Nettie Fierros and Ashley Goodrich completed the senior hit list.
The lone seniors without a hit were, curiously, the two players who rank 1-2 in team batting average - Serena Settlemier and Jessica Moppin.
Nevertheless, Settlemier was solid in the circle. She posted her 16th win, allowing three singles, striking out eight and walking none in a route-going performance.
"I was in a rhythm. I thought I kept them off-balance," Settlemier said. "I did maybe want to go out with a hit or two, but I have the Big 12 (tournament) to do that."
Kansas concluded the regular season with a 30-24 overall record and an 8-10 conference mark that was good for the No. 6 seed in next week's league tourney in Oklahoma City.
"That's big," Bunge said, "because we don't have to be in one of Wednesday's play-in games."
The Jayhawks' tourney opener will be at 11 a.m. Thursday against No. 3 seed Baylor. KU split with the Bears during the regular season.
Kansas finished with a 7-3 record in league games at Arrocha, but the Jayhawks were 1-7 in conference road contests. The lone victory away from home was a 2-1 decision over Baylor in Waco, Texas.
"This gives us a little boost, a little momentum going into the tournament," Bunge said. "The Big 12 tourney is so tough, and we know how explosive Baylor can be."
Kansas wasn't explosive against the Cyclones on Sunday, yet Bunge couldn't have been happier.
"We strung things together and didn't have to rely on the home run," the KU coach said.
Freshmen Val Chapple and Stevie Crisosto accounted for the other two KU hits. Crisosto drove in a run with her fifth-inning ground single.
Settlemier, who went in with the league's second-best earned run average (behind Texas' Cat Osterman), lowered her ERA to 1.21. In Big 12 games, she was 4-3 with an 0.83 ERA.
Notes: Fierros made a diving catch in left field in the fifth inning and turned it into a doubleplay by throwing out ISU's Jessica Quade, who tried to advance from first base. : Settlemier has issued only one walk in her last 25 2/3 innings. : Iowa State (23-27, 5-13 Big 12) was saddled with a Wednesday play-in game by dropping both games of the weekend series.
Copyright 2018 The Lawrence Journal-World. All rights reserved. This material may not be published, broadcast, rewritten or redistributed. We strive to uphold our values for every story published.