A year ago the national spotlight was on Kansas and a hearing in Topeka where one of the most intense debates on the theory of evolution was unfolding since the 1925 Scopes "monkey" trial.
Capturing it all on film was a crew headed by three men from the Kansas City and Lawrence area.
"It was the perfect setup for a documentary," said Jeff Tamblyn, owner of Origin Films of Merriam. "It's an extremely controversial subject. It has a beginning, middle and an ending, and it has a cast of characters."
In May 2005 three members of the Kansas State Board of Education - Steve Abrams, Kathy Martin and Connie Morris - conducted several days of hearings designed to debate the pros and cons of evolution, intelligent design and state school science standards.
Adding to the cast of characters were John Calvert, an attorney and director of the Shawnee-based Intelligent Design Network, and Pedro Irigonegaray, a Topeka attorney and supporter of pro-evolution science standards.
The filmmakers recently completed their documentary, "Kansas vs. Darwin," and hope to enter it into the Telluride and Toronto film festivals in September as well as Docu-Week, an August event in Los Angeles.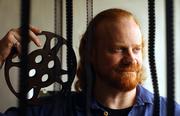 "We introduce the people with the hearings as the centerpiece," said Mark von Schlemmer, of Vinland, editor and co-writer. "We show why they were involved in this and what motivated them."
Tamblyn said that while the hearing was boring much of the time, there were moments of great theatrics.
"I knew that if we could just cover the people and the characters in the right way, we would be able to tell a very dramatic story about what was happening," Tamblyn said.
Other films on evolution
The new film "Kansas vs. Darwin" is the third recent documentary examining the Kansas State Board of Education or the issue of evolution in the state. Earlier this year "Flock of Dodos: The Evolution-Intelligent Design Circus," was completed. Former Kansas University student Randy Olson made the documentary, which explores the science controversy in Kansas and Dover, Pa. In 2003 Ranjit Arab of Lawrence made "El Jardin" (Spanish for "garden"), a study of the election of Connie Morris to the state board of education.
Tamblyn, von Schlemmer and their third partner, Jeff Peak, of Kansas City, Mo., also had to win over their characters. Several attempts to get on-camera interviews with Morris and Irigonegaray were rebuffed. Irigonegaray initially thought the film crew was working for Calvert, and Calvert thought they were working for Irigonegaray, Tamblyn said. All, however, eventually granted in-depth interviews away from the hearings.
"I had to talk to both sides, so I just had to tell everybody I wasn't working for anybody," Tamblyn said. "We were very polite. That got us pretty far. I enjoyed meeting everyone. These are all very personable and intelligent people."
Tamblyn said he became concerned when the pro-evolution scientists boycotted the hearing and refused to testify.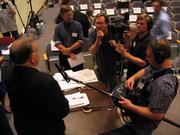 "I thought it was going to kill the film," he said. "Then Pedro showed up. He livened up everything because he is quite an amazing guy and a very forceful personality. He leant a tremendous air of drama to the proceedings."
The film now has a Web site, www.kansasvdarwin.com, which contains a two-minute trailer as well as background information. A 10-minute clip from the film has been shown privately to investors and potential investors, including some in Lawrence, Tamblyn said.
Two Free State High School girls who saw a showing at a teacher's house were so impressed they tried to donate $132 they came up with and collected from their friends, Tamblyn said. The money wasn't accepted because of the crew's "for profit" status, but the girls were made "honorary investors" and promised good seats at the first showing of the film, he said.
Editing and organizing the film from 135 hours of footage was "a fun challenge," said von Schlemmer, who worked for Sunflower Broadband in the early 1990s before moving on to KCTV5 in Kansas City and then becoming a freelance filmmaker.
"The high points of the hearing come through on the film," said von Schlemmer, who is currently working on his doctorate in film studies at Kansas University. "I think we've pulled the drama out of it."
Copyright 2018 The Lawrence Journal-World. All rights reserved. This material may not be published, broadcast, rewritten or redistributed. We strive to uphold our values for every story published.