Washington — CIA Director Porter Goss resigned under pressure on Friday, ending a tumultuous, 19-month tenure marked by clashes with the nation's new intelligence chief about the CIA's reduced role in the restructured spy community.
U.S. intelligence and other officials said Goss was pushed out by Director of National Intelligence John Negroponte, whose growing disenchantment with the CIA director was shared by members of President Bush's intelligence advisory board. The White House was expected to name a replacement as early as next week.
As director, Goss focused on expanding the CIA's clandestine service and pushing it to take more operational risks. But the former Florida congressman was often faulted for a lax management style, for alienating veteran CIA officers and for his reluctance to surrender resources to espionage organizations created in the wake of the Sept. 11, 2001, attacks to combat terrorism and weapons proliferation.
In a hastily arranged session in the Oval Office, President Bush said Goss had submitted his resignation Friday morning and that "I've accepted it." He said Goss had "led ably" at the CIA during a time of difficult transitions, and that the plans Goss had laid would "help make this country a safer place and help us win the war on terror."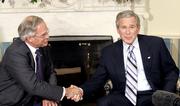 In a prepared statement, Goss, 67, did not explain his reasons for resigning. But he did say that under his leadership, the agency had "made great strides on all fronts" and that he would remain on the job in the coming weeks "to ensure a smooth and professional transition."
Early speculation on who would replace Goss centered on Air Force Gen. Michael Hayden, Negroponte's top deputy. Other possible candidates mentioned in intelligence circles included White House homeland security adviser Fran Townsend and former CIA Director Robert Gates, who served under President George H.W. Bush.
Goss' abrupt departure leaves a leadership vacuum in the espionage community at a time when the CIA is under mounting pressure to produce better intelligence on a host of difficult targets, including the insurgency in Iraq, the threat posed by terrorist groups - including al-Qaida - and Iran's nuclear program.
Goss' ouster in just his second year on the job also threatens to return the agency to the sort of destabilizing leadership shuffles it experienced during the 1990s, when five directors filled the top job in as many years.
Many agency veterans think that leadership turmoil and deep budget cuts set the stage for the failures leading up to the 9-11 attacks, as well as its erroneous prewar assessments of Iraq's alleged biological, chemical and nuclear weapons programs.
Copyright 2018 The Lawrence Journal-World. All rights reserved. This material may not be published, broadcast, rewritten or redistributed. We strive to uphold our values for every story published.