Baghdad, Iraq — The U.S. military on Thursday revealed parts of a planning memo attributed to al-Qaida in Iraq that outlines plans to ignite sectarian war by targeting Shiite Muslims and to shift the battle toward the capital and religiously mixed parts of the country.
The memo, which the military said was seized during a raid last month, ordered followers to "Make the struggle entirely between Shiites and the mujahedin," or holy warriors, and lambasted moderate Sunni groups. It included a call for insurgents to "displace the Shiites and displace their shops and businesses from our areas. Expel those black market sellers of gas, bread or meat or anyone that is suspected of spying against us."
Military officials also provided unflattering outtakes from a recently released propaganda video that show a flustered Abu Musab al-Zarqawi, the group's self-proclaimed leader, wearing American-style running shoes and struggling to get his machine gun to fire automatically. Another shot shows an al-Zarqawi deputy grabbing the hot muzzle of a recently fired machine gun and apparently scalding his hand.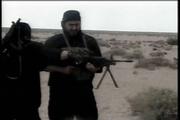 Maj. Gen. Rick Lynch, spokesman for U.S.-led forces in Iraq, said al-Zarqawi's bloopers and the strategy memo were discovered in a raid on an alleged al-Qaida safe house in Yusufiya, a village south of the capital that U.S. military planners say is being used as a staging ground for stepped-up insurgent operations in Baghdad.
U.S. officials acknowledge that al-Zarqawi's foreign fighters make up only a small part of the Sunni Arab insurgency, but say their attempts to start a civil war represent the greatest threat to Iraq's stability.
The memo also seemed to signal a strategic shift away from U.S. targets.
"The priority in Baghdad will be the Shiites, the (Iraqi Army) and the rest of the related forces there."
In a section titled, "Important comments and notes for working in Baghdad," the memo also calls on militants to strike frequently at police and army checkpoints. "Do that until it becomes a rule in their psyches that the one who's standing in the street, will die," the memo said.
Deaths in Iraq
As of Thursday, at least 2,410 members of the U.S. military have died since the beginning of the Iraq war in March 2003, according to an Associated Press count. The figure includes seven military civilians. At least 1,897 died as a result of hostile action, according to the military's numbers. The latest deaths reported by the military: ¢ Two soldiers were killed Thursday whe n their vehicle was struck by a roadside bomb in south-central Baghdad. The latest identification reported by the military: ¢ Army Cpl. Robbie G. Light, 21, Kingsport, Tenn.; died Monday of injuries sustained in Baghdad when an explosive detonated near his tank; assigned to the 1st Battalion, 67th Armored Regiment, 2nd Brigade Combat Team, 4th Infantry Division, Fort Hood, Texas. ¢ Marine Lance Cpl. Robert L. Moscillo, 21, Salem, N.H.; died Monday in Anbar province; assigned to the 1st Combat Engineer Battalion, 1st Marine Division, I Marine Expeditionary Force, Camp Pendleton, Calif.
But the memo, which did not include a date or author, also reflected criticism of unidentified insurgent leaders for seeking short-term media gains rather than creating a viable organization.
"It is known by the majority of the mujahedin in Baghdad that their leadership is not following a clear vision and a tight plan," said the memo, blaming recent "strategic losses" on top leaders.
"The Emirs (leaders) are demanding continuous daily work with the greatest possible momentum in order to exhaust the enemy although the mujahedin in fact are the ones who are exhausted," the memo said.
The release of the outtakes afforded the U.S. military an opportunity to mock the tough-guy image al-Zarqawi tried to project in a 34-minute propaganda video that found its way onto the Internet and Arab-language television last week.
"What you saw on the Internet is what he wanted the world to see: 'Look at me, I'm a capable leader of a capable organization,'" Lynch, spokesman for the U.S. military in Iraq, said during his regular weekly briefing.
"Here's al-Zarqawi the ultimate warrior trying to shoot off his machine gun. It's supposed to be automatic fire and he's shooting single shots," Lynch said. "It's just a matter of time before we take him out."
Lynch said 31 suspected foreign militants loyal to al-Zarqawi were killed in five raids, including the one in Yusufiya, since April 8. U.S. military said it killed eight suspected insurgents Thursday in a gun battle in central Ramadi, west of the capital.
At least nine Iraqis and two U.S. soldiers were killed Thursday in bombings and shootings throughout the capital.
Copyright 2018 The Lawrence Journal-World. All rights reserved. This material may not be published, broadcast, rewritten or redistributed. We strive to uphold our values for every story published.