Jerusalem — Ehud Olmert was formally sworn in as Israel's prime minister Thursday with his new coalition government, winning parliamentary approval to pursue his goal of drawing Israel's final borders by 2010.
In his first major policy speech to the new legislature, Olmert said Israel needs to shed isolated settlements in the West Bank but will keep major settlement blocs.
The parliament approved Olmert's four-party coalition in a 65-49 vote of confidence, but Olmert said he hoped to expand his team - an effort to increase his backing ahead of a West Bank redeployment sure to evoke strident and possibly violent opposition from some Israelis.
"The continuation of scattered settlements throughout the West Bank creates an inseparable mix of populations that will threaten the existence of the state of Israel as a Jewish state," Olmert said. "The borders of Israel that will be formed in the coming years will be significantly different from the territories that the state of Israel holds today."
Olmert was thrust into the top job when Ariel Sharon suffered a massive stroke Jan. 4. It was Sharon, 78, who walked out of the hawkish Likud to create a new centrist party, Kadima. Sharon intended to follow up on his unilateral Gaza pullout last summer with additional moves to solidify Israel's political and security position.
Olmert, 60, followed Sharon out of Likud and became his chief political ally, then stepped seamlessly into his positions as acting premier and Kadima leader.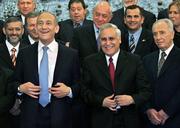 He remained deferential and low key during the four months he was Sharon's stand-in.
That changed after his party won March elections. He cranked up his rhetoric, promoting his vision of a unilateral end to the border conflict with the Palestinians - and pressing the policy even harder than Sharon did.
Olmert insisted he is prepared for negotiations with the Palestinians but said they must first stop attacks and dismantle violent groups.
Copyright 2018 The Associated Press. All rights reserved. This material may not be published, broadcast, rewritten or redistributed. We strive to uphold our values for every story published.