Overland Park — Sino-Kansas relations took a step forward Thursday at a formal ceremony marking the launch of the Confucius Institute at Kansas University's Edwards Campus.
"This is a historic moment for the state," Gov. Kathleen Sebelius said.
Organizers hope the Institute, the fourth in the nation, will benefit the Kansas economy while educating young and old about the world's most populous nation.
"I think it's going to have a very practical economic impact," KU Chancellor Robert Hemenway said. "I think there's a good chance that Kansas can be known by the Chinese industry as a very good place to do business."
Thursday's event included speeches by Sebelius, Board of Regents President Donna Shank and representatives from China, including Wu Qidi, vice minister of China's Ministry of Education.
China is spreading Confucius Institutes around the globe with the goal of creating 100 by 2010. In the U.S., there are institutes in Illinois, Maryland and New York.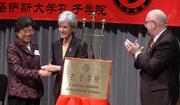 KU's Confucius Institute is funded by roughly matching contributions from KU and China's Ministry of Education totaling about $250,000.
Expected to open in August, the Institute will offer language classes and cultural programming for schools, businesses and the public.
In the fall, the Institute will begin a Chinese language program, using videoconferencing, in seven Kansas schools. The program represents the first significant attempt to bring Chinese language instruction to numerous Kansas schools.
Organizers anticipate language courses for businesses and the public, film festivals, lectures and cultural events.
They view each program as a way to strengthen Kansans' knowledge of China - a move that organizers hope will spur economic growth.
China is Kansas' third largest destination for exported goods, and future growth is expected, according to the Kansas Department of Commerce.
Learning about China's language and culture is essential for business, said Bill Tsutsui, the Institute's executive director.
"When you think that there are more people in China studying English than there are people in America altogether, you realize they know us darn well," Tsutsui said.
Tsutsui said Americans need to learn China's language and culture to compete.
"We really need to grow our homegrown talent to be prepared for the future here," he said.
Tsutsui said KU was selected as a site for the Institute because of its geographic location in the middle of the U.S. and for KU's comprehensive Chinese and East Asian programs and record of community outreach.
KU's Center for East Asian Studies is the only resource of its kind in the Great Plains area.
Copyright 2018 The Lawrence Journal-World. All rights reserved. This material may not be published, broadcast, rewritten or redistributed. We strive to uphold our values for every story published.