Kansas City, Mo. — There's one thing the young, talented, rich and famous Larry Johnson wants everybody to understand - he is not happy.
Not after going to the Pro Bowl. Not after rushing for a Kansas City Chiefs record 1,750 yards and bursting into stardom.
Not after having fans approach him on the streets of New York and Las Vegas and tell him how great he is. Not even after hobnobbing with celebrities as a newly minted celebrity himself.
"No, I'm never happy," the muscular running back said Thursday.
"When I feel like I'm successful in my own right, I will never be happy with anything, period. I haven't started one full season yet. I haven't gotten this team to a Super Bowl. As far as my career, it's still starting off late, I feel. So I can't overall be happy about where I'm at right now, 'cause like I said, I feel like I'm still playing catch-up."
One thing the fourth-year Penn State product has caught up with is a job as a starter. When three-time Pro Bowler Priest Holmes went out last season with neck trauma, the sullen backup finally got the chance he'd always said he deserved.
And man, did his critics eat their words.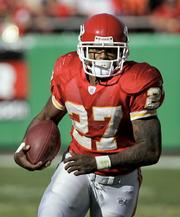 He started nine games and went over 100 yards each time, over 200 twice. His 1,627 yards from scrimmage in games played on or after Nov. 1 were the most in NFL history.
Even if Holmes decides to come back and resume his career, new head coach Herman Edwards has assured Johnson that he, not Holmes, will go into camp as the starter.
That much does make him happy. So does having Edwards as his head coach instead of the retired Dick Vermeil. He and Vermeil clashed repeatedly during his first three stormy years after being taken in the first round in 2003. But now, he says, he has a head coach who's in his corner for the first time since he was a high school senior.
"I'm not really surprised," he said. "But at the same time, I am. I haven't had a coach like that."
Holmes, as mysterious as always, has sent word he will not participate in the Chiefs' mandatory minicamp May 19-21 because he still does not have medical clearance. Team president Carl Peterson has said that he still expects Holmes to return.
Holmes was one of the NFL's top running backs when Johnson was drafted in 2003. Nevertheless, Johnson insists he still is bitter that he did not step right in as the starter.
"I'm still two and maybe three years behind," he said. "This will be my first time starting a regular season. All I have to prove is if I can carry the load for 16 games."
Now that he's finally won the job, does he think those struggles the first two years helped make him a better player?
"Not really," he said. "It just made me a little bit more frustrated, made me a little bit more (angry) that I had to go up to the season, that I had to make up for a lot of ground, that I missed my first two seasons here. I feel like I'm still playing behind the eight-ball.
"I still feel like I have a lot to prove."
Copyright 2018 The Associated Press. All rights reserved. This material may not be published, broadcast, rewritten or redistributed. We strive to uphold our values for every story published.