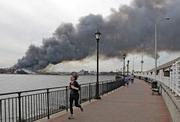 New York — A raging fire laid waste to a complex of seven old warehouses on the Brooklyn waterfront Tuesday, creating a huge plume of smoke that evoked memories of the World Trade Center attacks nearly five years ago.
Fire Commissioner Nicholas Scoppetta said the cause of the 10-alarm fire would be investigated as possible arson. He called it the largest fire in the city in more than a decade, excluding the trade center attack.
The flames were clearly visible from the east side of Manhattan, where rubberneckers slowed morning rush-hour traffic. The acrid smoke, smelling at times of wood, rose in a huge black cloud visible for miles.
The fire started before dawn, blazed furiously for six hours and continued burning late Tuesday. More than 400 firefighters were called to the scene, and five fireboats pumped water on the blaze from the East River.
The ruined warehouse complex was part of a historic waterfront area marked for redevelopment as high-rise housing. It was not clear what was inside the warehouses, but Scoppetta said bales of cloth burned in one of the buildings.
Copyright 2018 The Associated Press. All rights reserved. This material may not be published, broadcast, rewritten or redistributed. We strive to uphold our values for every story published.