Buck Afenir calls himself a movie buff now.
After spending nearly a week in isolation, he has the mumps to thank for that.
"I watched every DVD that the team owns," Afenir said. "I went crazy, pretty much."
Though teammates ragged him pretty good, Afenir made them glad he was back in Kansas University's 6-0 baseball victory over Saint Mary on Tuesday night at Hoglund Ballpark.
The freshman contributed a shot to right-center in the sixth, good for a run-scoring double that scored Preston Land. He also added a sacrifice fly in the fourth to lead the Jayhawks with two RBIs.
"It's good to see him back there on the field," KU coach Ritch Price said. "He has a chance to be a really good player."
Afenir's teammates made sure to give him a hard time, covering their mouths in the dugout and also telling him to stay away.
Though the catcher wasn't pleased to get the mumps, he was glad he got them when he did.
Photo Gallery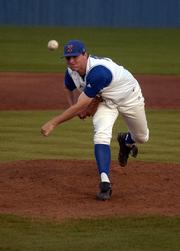 KU baseball vs. Saint Mary
After being diagnosed a week ago today, Afenir was told to stay isolated four days. The U.S. Center for Disease Control upped that period to nine days Friday.
"They switched it right back. It's kind of crazy," Afenir said. "I just fell through that crack."
Afenir made sure to apply the old rules, returning just six days after his diagnosis. He said he still wasn't at full strength, especially running the bases.
"I felt pretty tired when I got to second," Afenir said. "I've got low energy right now."
Kansas (33-18) coasted against Saint Mary, which sent eight pitchers to the mound in eight innings.
With the Spires' conference tournament coming up over the weekend, the NAIA squad wanted to make sure it had fresh arms after clinching the regular-season title.
"At this level, you should be able to make an adjustment from pitcher to pitcher," Morrison said, "but it definitely throws you off when they're coming with a different guy every inning."
The Jayhawks broke through in the second. After a John Allman walk, Morrison doubled to left field to make it 1-0. He later scored on third baseman Zach Sanders' throwing error.
Morrison also started Kansas' rally in the fourth against Matt Reitemeier. His walk, combined with Land's double and Brock Simpson's triple, gave the Jayhawks a 5-0 advantage.
Though the Jayhawks only mustered six hits, five of them were for extra bases.
Meanwhile, five Kansas hurlers combined on the three-hit shutout, with Price mixing things up by starting Sean Land.
Normally slated as Kansas' first-game conference starter, Land had struggled lately with no wins and a 9.67 earned-run average in Big 12 play. He allowed seven earned runs in just 3 1/3 innings against Oklahoma.
"I thought for the first time, that when he got in trouble," Price said, "he wasn't very competitive."
The left-hander seemed to gain some of that confidence back Tuesday, going three perfect innings and striking out four.
The shift means that Price will switch up his rotation for this weekend's series against the seventh-ranked - and defending national champion - Texas Longhorns.
Ricky Fairchild will start Friday's game, with freshman Nick Czyz scheduled to make his first career conference start Saturday.
"We're going to find out how tough he is mentally," Price said. "He's going to walk in front of 7,000 people in an environment he's never experienced before."
Kansas will look to duplicate last year's performance against Texas when it took two of three from the Longhorns at home.
"We've been on the road all year," Price said, "to prepare for this week."
Copyright 2018 The Lawrence Journal-World. All rights reserved. This material may not be published, broadcast, rewritten or redistributed. We strive to uphold our values for every story published.