Berlin — In Germany, unions took aim at corporate greed. In Bangladesh, garment factory employees called for better working conditions. And in Turkey, police fired pepper spray and tear gas to disperse demonstrators denouncing the International Monetary Fund and the United States.
Hundreds of thousands of people rallied around the world for May Day, with protests in Switzerland, Sweden, Turkey and Chile turning violent on the traditional workers' holiday.
Video on CNN-Turk showed protesters in Istanbul fighting with police and one protester cowering in a bus as a police officer beat him with his fists. Some 40 protesters were detained, police said.
In Sweden, police detained about 130 people after some demonstrators smashed shop windows and attacked police with chairs as they marched through Stockholm.
Zurich police used tear gas and rubber pellets to keep 200 to 300 demonstrators from entering the center of Switzerland's financial center, but protesters still damaged buildings, including a bank branch and a clothing store, police said.
In Berlin, youths pulled several large trash cans into the street and set them alight toward the end of a daylong street festival and some threw bottles at police. Teams of riot police repeatedly rushed into the crowds to snatch suspected troublemakers.
Police earlier detained 32 people after rocks were thrown from among a crowd of more than 10,000 people obstructing a planned demonstration by neo-Nazi sympathizers in the eastern city of Leipzig.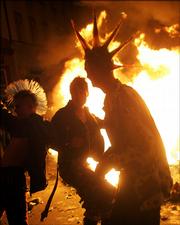 Across Germany, labor unions protested the effects of globalization on Europe's largest economy, accusing firms of sacrificing jobs for quick profit and urging the government to introduce a minimum wage.
"We don't want American conditions," Michael Sommer, the head of Germany's main union federation, told about 10,000 people at a rally in Wolfsburg, home of car maker Volkswagen AG. "It is really time to stop this madness. Those in government must show creativity instead of putting new thumbscrews on the long-term unemployed."
Thousands of garment factory workers rallied in Bangladesh to demand the United States and Europe drop tariffs on their products, saying they could eventually cause the industry's collapse. Others wound through the streets of the capital, Dhaka, banging drums and singing as they called for better working conditions in dangerous factories.
"No more death in factories," they chanted.
About 100,000 workers took to the streets across Indonesia, protesting a labor law that would cut severance packages and introduce more flexible contracts that would chip away at worker security.
"Don't change the law," thousands of laborers chanted in downtown Jakarta, as others arrived in buses and trucks, waving green, yellow and red flags and banners.
Some of the biggest traditional assemblies were in Moscow, where 25,000 people gathered in central Tverskaya Street to hear speeches from trade union leaders and the city mayor and listen to a concert, the ITAR-Tass news agency reported.
Meanwhile, communists marched from a square where there is a statue of Lenin to their usual rallying spot opposite the Bolshoi Theater by a statue to Karl Marx, NTV television reported. Overall, 1.5 million people participated in May Day rallies in Russia.
Copyright 2018 The Associated Press. All rights reserved. This material may not be published, broadcast, rewritten or redistributed. We strive to uphold our values for every story published.