New York — With consecutive NIT championships, South Carolina coach Dave Odom and Hall of Famer Joe Lapchick now have something in common.
And that's as far as Odom wanted to go with comparing his team to Lapchick's St. John's squads that won back-to-back titles in 1943 and 1944, when the NIT was even more prestigious than the NCAA Tournament.
"I don't know that our team rivals that, and I certainly don't rival him, but the accomplishment remains the same," Odom said. "We did win two back-to-back and for that I am thankful and very, very proud."
Tarence Kinsey scored 21 points, and Tre' Kelley added 20 and seven assists to help South Carolina beat Michigan, 76-64, on Thursday night in the NIT championship game.
"When you look at the leadership Tarence had, you'll have to go back a long way to find a player who has had more success in the NIT than Kinsey has had in two years," Odom said of his senior, who hit the game-winning shot last year in South Carolina's victory over Saint Joseph's.
With four starters back from last year's squad, the Gamecocks began the season with hopes to graduate to an NCAA tournament berth. That didn't work out, though South Carolina (23-15) made a late run at an automatic NCAA bid before losing the Southeastern Conference title game 49-47 to Florida.
"It always comes back to you need to get to the NCAA tournament and you need to play for the national championship," Odom said. "That does not demean this at all."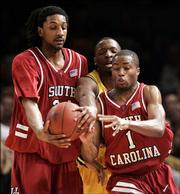 Back in the NIT, the Gamecocks made the most of it. Kentucky was the only other team ever to play in consecutive championship games (1946-47).
"It means a lot to us," said Kinsey. "To go out with a win in our last game is great."
The SEC could make it a tournament sweep with Florida and LSU playing the NCAA Final Four on Saturday.
Renaldo Balkman added 10 points, 11 rebounds and six blocks and was named the MVP o0f the tournament for South Carolina.
"He was phenomenal," Kinsey said. "He got every rebound and blocked shots."
Daniel Horton, who was the MVP of the 2004 NIT, scored 18 points to lead Michigan (22-10), which was trying to win its second championship in three years.
"He's been everything," Michigan coach Tommy Amaker said. "He's been an absolute high-level competitor since the day he stepped foot on campus."
Chris Hunter and Brent Petway each added 12 for Michigan, which won the title in 2004 with most of the same players who led this year's run to Madison Square Garden.
Copyright 2018 The Associated Press. All rights reserved. This material may not be published, broadcast, rewritten or redistributed. We strive to uphold our values for every story published.