No one trains for six months because they want to injury default in the Kansas State Championships.
No young wrestler wishes to come down with the flu just moments before his first round match.
Every young wrestler's dream is a state championship, and for some, that dream was quickly snatched away when nearly half of the Sunflower Kids Wrestling team fell sick to stomach flu Saturday and Sunday in Topeka.
When the tournament ended Sunday afternoon, Sunflower Kids Wrestling took home two state titles, a fourth-place plaque and a fifth-place finish - matching the hardware count from last season.
Despite the titles taken home by Reece Conklin and Hunter Haralson and the success of their athletes, the Lawrence wrestling club fell short of their season goal.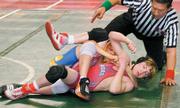 "We can't overlook the fantastic job those two, Reese and Hunter did," Sunflower coach Ron Bailey said. "They dominated in their final rounds and we can't be prouder of their success."
Sunflower qualified nine wrestlers for the State Championships at the Topeka Expocenter but lost two kids on Saturday in the first round to sickness. Another two wrestlers fell ill on Sunday, leaving what potentially could have been the strongest state tournament showing in the club's history with only four wrestlers in the medal rounds.
Haralson, Conklin, Nick Pursel, and Blake Greenfield battled their way through the field of 1,680 wrestlers to reach the medal rounds on Sunday afternoon.
Haralson captured his second state championship in three years with a 9-1 major decision over Gray County's Jaysten McClure at the 10-and-under 70-pound weight class.
"It feels good to regain the title and to be satisfied with my performance this weekend," Haralson said.
Conklin became the club's first three-time state champion with a 5-0 finals victory over Columbus Wrestling Club's B.T. O'Hara in the 12-and-under 100-pound division.
Photo Gallery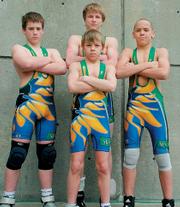 Sunflower Kids Wrestling at State
Pursel finished fourth with a one-point consolation loss to Horton's Kyle White at 12-and-under, 110-pounds, and Greenfield pinned Chanute's Lucas Stacy to capture a fifth-place finish at 14-and-under 120-pounds.
"It was a big win for Hunter because at the end of last year he made a mistake in the finals to finish in second," Bailey said. "This is the second year in a row for Reece, which is huge."
Other qualifiers for Sunflower include Alan Clothier, Caden Lynch, Levi Flohrschutz, Josh Hanson, and Brandon Brown. Despite the uncontrollable circumstances, the club finished the tournament with 18 wins and four medals.
Conklin and Greenfield finished the weekend with three falls.
Despite the team's sickness at state, Bailey said he'll look back at the season as a success. But the club's coach said he'll need a few weeks of thought before he can look forward to what's in store next year.
Copyright 2018 The Lawrence Journal-World. All rights reserved. This material may not be published, broadcast, rewritten or redistributed. We strive to uphold our values for every story published.