Lawrence High boys tennis coach Dick Wedel has enough trouble coaching his team, but finding enough time for all of them to practice has become even tougher.
The longtime tennis coach at LHS has 37 boys on this year's team because he refuses to cut players who want to play. It's the most players he ever has had on a boys team, and he is excited with how things are going so far.
"Everyone has been working hard and giving a lot of effort," Wedel said. "Ten kids or so have never even played a match before, so obviously their scores won't help the team, but they are getting to play everyday and get some instruction and become better players."
Wedel has been pleased with the performances of two seniors, Ryan Robinson and Gardner Burg.
"They are our two best players," Wedel said. "They aren't going to win state, but they could definitely score us some points. They played a lot since last season and have been beating everybody in practice."
Thomas and David Nieto as well as left-handers Anthony Frei and Curtis Wakeman will be key LHS components.
At Free State, coach Jon Renberger has different expectations. The Firebirds return all of last year's key contributors, including state qualifier Keith Pipkin.
"The expectations are higher," Renberger said. "We won't catch as many opponents off guard, because we did well last year, and we return everybody. Other teams will expect a tough match when they play us."
Photo Gallery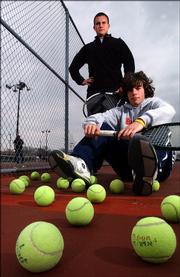 High School Tennis
Pipkin has orally committed to play college tennis at Johnson County Community College and will be the No. 1 singles player for Free State. Jack Hull and Stephen Donly will open at No. 1 doubles. Sophomore Charlie Moffet also will play a key role for the Firebirds this spring.
At Seabury Academy, meanwhile, expectations are high after the signing of highly touted tennis coach Kirsty Elliot just three months ago. Elliot left a position as the tennis pro at the Athens Country Club in Athens, Ga., to come to Seabury and brings years of tennis experience to town.
Elliot said she still was learning the strengths and weaknesses of her players, but had been pleasantly surprised.
"Nineteen people signed up, and 19 people are sticking to it," Elliot said. "In three weeks they have really worked hard and improved tremendously. They seem to be having a lot of fun, also."
Thirteen boys and six girls will combine as one team and compete together against the boys this spring.
Shiv Subramaniam will open the season as the No. 1 singles player, and Brooke Sutherland will open at No. 2.
"I have 19 players, and I could already say something special about each of them," Elliot said.
Copyright 2018 The Lawrence Journal-World. All rights reserved. This material may not be published, broadcast, rewritten or redistributed. We strive to uphold our values for every story published.