Concealed guns
Now that qualified Kansans will be able to get licenses to carry concealed guns, who will get one? Sen. Phil Journey, R-Haysville, who has pushed for the law for years, said he will, but the House sponsor, Candy Ruff, D-Leavenworth, said she won't. Ruff said she fought for the bill so that women who feel endangered could carry concealed weapons legally. Gov. Kathleen Sebelius, who vetoed the legislation, said she would not get one.
The law takes effect July 1, but the first licenses aren't expected to be issued until January 2007.
Running tab
There were 512 registered lobbyists representing nearly 1,200 special interests when the legislative session started in January, according to lobbyist expenditure reports filed with the Kansas Governmental Ethics Commission. Lobbyists spent $83,426 in January, with the overwhelming majority of it on food and drink to wine and dine legislators. February figures are due out this week.
Pigs, schools and immigration
State Rep. Becky Hutchins, R-Holton, has tried repeatedly during the last few weeks to repeal the law that allows the children of some undocumented workers to attend higher education institutions at the less expensive in-state tuition rate. Each time she has been rejected, and some lawmakers have appeared weary of Hutchins' effort.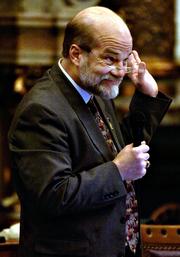 On an unrelated bill, Rep. Dale Swenson, R-Wichita, sought to add an amendment that would rename a portion of U.S. Highway 75 in Hutchins' distinct after Cesar Chavez, the migrant farm leader who died in 1993. The amendment was ruled not germane to the underlying bill so there was no vote.
Hutchins also was on the losing side of a 64-61 House vote for a three-year, $610 million school finance bill. In speaking against the measure, Hutchins said there was an old saying on the farm that said: "You can't fatten a pig by weighing it. Just like you can't fatten or satisfy the K-through-12 lobbyists - pigs - by sticking it to the Kansas taxpayer."
Things to watch
Conference committee meetings will be running today and Tuesday, and the full Legislature will return Wednesday. The first part of the session is scheduled to end Friday or Saturday, and legislators will return for a wrap-up session in late April.
Copyright 2018 The Lawrence Journal-World. All rights reserved. This material may not be published, broadcast, rewritten or redistributed. We strive to uphold our values for every story published.