The top 10 American-born players in the NBA Draft this June all could have something in common: winning at least two games in the 2006 NCAA Tournament.
Nearly all the top prospects ready to make the NBA jump have advanced to the Sweet 16.
For boring, noncommittal evaluations of them, consult an NBA scout and tell him you will quote him by name.
For the straight scoop, consult an NBA scout who has known you long enough and well enough to trust you, and guarantee him anonymity. Henceforth, just such a scout will be known as Arnie Nimoty.
"I don't like this draft," Nimoty said. "I don't like any of them. It's a bad draft. I think guys are getting too caught up by what they're seeing now and are putting too much value into how they're playing now."
Nimoty likened what was going on now to late night in a bar.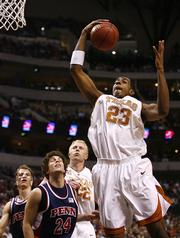 "It gets to be around midnight, and you start to think, hey, that looks pretty sexy," he said. "I'm not sure you'd want to wake up in the morning with some of these guys on your roster."
Still, it's his job to evaluate, so evaluate he does. A look at some prospects on Sweet 16 teams, ranked in the order of their NBA prospects, with Nimoty's quotes:
1. LaMarcus Aldridge, 6-foot-10 Texas sophomore: "His NBA success is predicated on where he goes. If he goes where they play smash-mouth, half-court basketball, he'll be average. If he goes to a running team, a Phoenix, a Sacramento or a Dallas, then he's got a chance to stand out."
2. Rudy Gay, 6-foot-8 UConn sophomore: "He's athletic, but he's just not there yet. He's a little, maybe a little soft."
3. Adam Morrison, 6-foot-8 Gonzaga junior: "He's going to have a place in the league, but the (Larry) Bird comparisons are downright silly. This kid gets a rebound every five minutes. It took Bird less than three minutes for every rebound."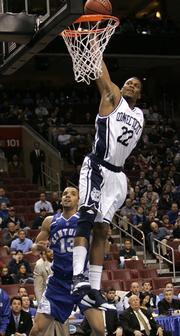 4. Josh McRoberts, 6-foot-10 Duke freshman: "Love him. Love him. For all the hooting and hollering about (J.J.) Redick, Morrison, Gay and Aldridge, you might look back four years from now and he may be the number-one guy to come out of this draft. He's athletic. I think he's going to be good, and he's probably the top value in this draft."
5. Randy Foye, 6-foot-3 Villanova senior: "He's athletic. He makes baskets, and he thinks he belongs. That's good. You like that in big-conference guys."
6. Patrick O'Bryant, 7-foot Bradley sophomore: "I like him. I'm a little higher on him than most people are. He likes to play. He just doesn't play because he's tall. A lot of big guys play only because they're tall. You can tell he likes to play the game."
8. Tyrus Thomas, 6-foot-9 LSU freshman: "I need to see more of him. Sure, he's a first-rounder, but it's a bad litter this year. Somebody has to be the pick of the litter."
9. Rodney Carney, 6-foot-7 Memphis sophomore: "Everyone's talking about him now like he's Mr. Wonderful. I'm not so sure about that."
10. Shelden Williams, 6-foot-9 Duke senior: "I like him. He rebounds. He blocks shots. He can run the floor."
11. Hilton Armstrong, 6-foot-11 UConn center: "He's never averaged 10 points a game in his life. Never. And now we're all excited about him?"
12. Josh Boone, 6-foot-10 UConn sophomore: "Good frame, nice hands and feet, and a good interior defender. He doesn't handle injuries well, and his willingness to defer to others on the offensive end makes me concerned about his love for the game."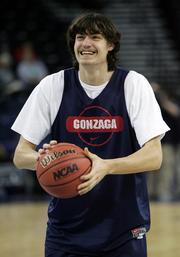 13. J.J. Redick, 6-foot-4 Duke senior: "Just another guy. He's going to play in the NBA, but how much better is he than Jon Barry?"
14. Glen "Big Baby" Davis, 6-foot-8 LSU sophomore: "He's a first-rounder, but what can I say? None of these guys excite me."
15. Kevin Pittsnogle, West Virginia senior: "I don't know what to do with him. I just don't know what to do with him yet."
15. Craig Smith, Boston College: "Look at the history of undersized fours. They're all subs. Tell me about Charles Barkley being a star and I'll tell you about Eddie Gaedel making the major leagues. There's always one exception."
16. J.P. Batista, Gonzaga senior: "He's terrible. He'll be 25 in October. Let's work with that a little. He's like a 13-year-old held back four times playing in a fourth-grade soccer game."
Batista isn't expected to be drafted in the first round, but other Sweet 16 players, such as potential lottery pick Washington senior guard Brandon Roy, and UConn sophomore guard Marcus Williams, should he decide to come out, project as first-round selections. Villanova's Allan Ray, not as athletic as teammate Foye, is a draft prospect.
Other Sweet 16 players, such as Bradley's Marcellus Sommerville and West Virginia's Mike Gansey, could hear their names called on NBA Draft night, but shouldn't invite too many friends over to watch with them because those friends could be left consoling them and talking up the virtues of European ball.
Copyright 2018 The Lawrence Journal-World. All rights reserved. This material may not be published, broadcast, rewritten or redistributed. We strive to uphold our values for every story published.