Cairns, Australia — Metal roofs littered streets, wooden houses lay in splinters and banana plantations were stripped bare after the most powerful cyclone to hit Australia in three decades lashed the country's eastern coast Monday.
Amazingly, the storm caused no reported fatalities, and only 30 people suffered minor injuries. But the damage from Cyclone Larry, a Category 5 storm with winds up to 180 mph, was expected to run into the hundreds of millions of dollars.
Hardest hit was Innisfail, a farming city of 8,500 people 60 miles south of the tourist city of Cairns in northeastern Queensland state. By today the storm was well inland and downgraded to a severe low pressure system.
"It looks like an atomic bomb hit the place," Innisfail mayor Neil Clarke told Australian television. "It is severe damage. This is more than a local disaster, this is a national disaster."
Prime Minister John Howard today pledged his administration would help shattered communities rebuild.
"The federal government will give what is needed to get these communities back on their feet," Howard said in a radio interview. "We just need a day or two to make a proper assessment of how the money can best be spent."
Innisfail urgently needs accommodation for people whose homes were damaged, a power supply to feed hospitals and other infrastructure, Clarke said.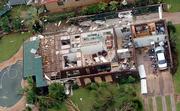 There was no official count of the homeless Monday, but given the number of homes badly damaged, the figure could run into the thousands, Clarke said.
The casualty toll was so low because people left town or went to shelters after authorities posted warnings. Residents and officials were mindful of the damage Hurricane Katrina did to New Orleans and Mississippi last August, said Ben Creagh, a spokesman for Queensland state Department of Emergency Services.
"Everyone here studied Katrina and took a lot of messages away, a lot of lessons at the expense of the poor old Yanks," Creagh said. "There was absolutely no complacency at the planning level at all, and I think that shows. ... Good planning, a bit of luck - we've dodged a bullet."
Within hours of the storm's landfall, officials declared a state of emergency, prepared Black Hawk helicopters to run rescue missions and announced cash payouts for victims - $720 for each adult and $290 for each child who lost their home. Prime Minister John Howard indicated more aid was to come.
Queensland Premier Peter Beattie said 55 percent of homes in Innisfail had been damaged, though rescue teams had yet to get full access to the swamped region. All roads into the town remained blocked late Monday.
Farmers were expected to be among the hardest hit. The region is a major growing region for bananas and sugar cane, and vast tracts of the crops were flattened.
"It looks like someone's gone in there with a slasher and slashed the top off everything," said Bill Horsford, a cane farmer. One lawmaker estimated lost revenues could run to $110 million.
The storm also barreled over a portion of Australia's Great Barrier Reef, damaging a narrow band of coral, said David Wachenfeld, director of science at the government body that cares for the reef.
The reef is more than 1,240 miles long, and the affected area is only about 30 miles across and far from the places where nearly 2 million tourists a year gaze in awe at the coral's vibrant colors and fish life, he said.
It would take 10 to 20 years for new coral to grow and replace the damaged area, he said.
The storm was the most powerful to hit Australia since Christmas Eve 1974, when Cyclone Tracy destroyed the northern city of Darwin, killing 65 people.
Copyright 2018 The Associated Press. All rights reserved. This material may not be published, broadcast, rewritten or redistributed. We strive to uphold our values for every story published.