San Francisco — Dr. David Smith founded the Haight Ashbury Free Medical Clinic during the summer of love. It was 1967, he was 28 and he practiced his own brand of rock 'n' roll medicine - treating drug overdoses, sexually transmitted diseases and the common cold.
In the early years, it stayed afloat with money from musicians such as George Harrison and concert promoters such as Bill Graham. Haight Ashbury Free Clinics Inc. now serves about 65,000 patients a year at several locations in the Bay Area and is used as a model for free clinics across the country.
But Smith walked away from his life's work last month because of a philosophical clash with the clinic's new CEO, John Eckstrom, a former Fortune 500 executive.
"Where do I go?" Smith said. "It was like church to me."
Eckstrom and his supporters say they're simply trying to undo decades of bad financial management.
"It will take two more years to get the clinic to where it should be financially," Eckstrom said. "The philosophies of the '60s are here today. Nothing has changed. ... The philosophy can remain the same, but you have to be financially responsible."
Smith's complaints are complex and far-reaching. They intensified after Carl Gill, the clinic's former chief financial officer, was accused in June 2004 of embezzling and tax evasion.
Prosecutors say Gill stole at least $773,000 from the clinic. Staffers believe it could be two or three times that, according to Eckstrom. The case is pending and the next court hearing is scheduled for April 5.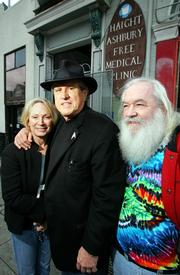 "It started a death spiral," Smith said. "We lost a line of credit. We had to sell off some assets. We lost our endowments. We were in bad shape."
Enter Eckstrom, a former executive with Bank of America and TRW Automotive Holdings Corp. Last month, he laid off 10 employees to cut costs.
Dr. Pablo Stewart, a part-time psychiatrist at the clinic since 1983, was one of them.
He said he was told last fall that when he ran out of the drugs he'd been dispensing directly to patients, his shelves weren't going to be restocked. Instead, he would need to start writing prescriptions - for people who couldn't afford to fill them, Stewart said.
"I raised hell," he said. "The people we were caring for were the most critical, no one else would take them. They had HIV, big-time psychiatric stuff, plus drug abuse. We had developed a system where the only way we knew people took the drugs is when we watched them take it in the clinic."
Eckstrom remembers it differently. He said the clinic offered to order more drugs under Stewart's license because the previous doctor whose license was used had resigned. Stewart refused.
Whatever happened with the drug dispensary, one thing is clear - the underlying turmoil, which culminated with Smith's resignation, can't be pinned on one misunderstanding, one policy shift, one personnel change. It became us versus them, old-timers versus the new regime.
Eckstrom said when he became chief executive officer last April, the clinic was about $3.4 million in debt; now it's about $1 million in debt.
"We're changing the culture from one of entitlement to one of accountability," he said.
Copyright 2018 The Associated Press. All rights reserved. This material may not be published, broadcast, rewritten or redistributed. We strive to uphold our values for every story published.