Renick, Mo. — Homeowners across the Midwest were aghast Monday at nature's fury after a barrage of tornadoes, hail and rain left 10 people dead and destroyed or damaged hundreds of homes.
"It's just amazing how devastating it is," said Mayor Tim Davlin of the Illinois capital of Springfield, which nevertheless escaped with no deaths or serious injuries. "It looks like the pictures we saw a couple months ago after Katrina."
Thousands of homes and business lost electricity over the weekend. Kansas University and numerous public schools closed Monday because of storm damage and power outages, and many Illinois state workers in the capital were told to stay home.
Missouri Gov. Matt Blunt declared a state of emergency and authorized the National Guard to help with the cleanup. Nine of the dead were in Missouri.
Among them were Billy and Pennie Briscoe, ages 60 and 57, whose friends begged them to leave their rural mobile home in Renick as the winds howled. Usually, when there was a storm, they would go to the nearby town of Moberly, but "this is the first time he stayed," said Bobby Twyman, a family friend.
Bobby Ritcheson said he watched as a neighbor, DeAnn Francis Solloman, 39, was killed near Sedalia. "The trailer came down right on top of her," Ritcheson said.
The National Weather Service said there were as many as 110 reported instances of tornadoes touching down over the weekend in Kansas, Missouri, Oklahoma, Arkansas and Illinois. But the weather service said it could take two weeks to confirm those accounts.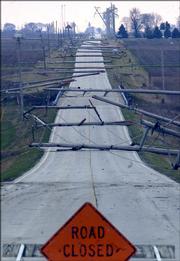 Flooding produced one fatality in southern Indiana when a man drowned Sunday night near Owensburg after falling from a boat, officials said.
Hundreds of homes and businesses were destroyed or damaged in Missouri alone by the tornadoes, high wind and hail as big as softballs. There were no immediate damage estimates across the Midwest.
Four of Missouri's nine deaths were in Renick. Twenty-six people were injured in surrounding Randolph County, 13 of them when a chartered bus overturned while returning to Columbia College.
Springfield, Ill., was hit hard twice in 24 hours, first by a tornado late Sunday and then by strong wind early Monday that blew debris through the city. Windows in the Illinois Capitol were blown out, and even the five-story Illinois Emergency Management Agency building lost part of its roof.
The violent weather was driven by a powerful low-pressure system over the Midwest that pulled warm air out of the Gulf of Mexico. The same phenomenon caused powerful winds that drove deadly wildfires across Texas over the weekend.
"It is a sign that spring is coming," said weather service meteorologist Philip Schumacher in Sioux Falls, S.D.
Copyright 2018 The Associated Press. All rights reserved. This material may not be published, broadcast, rewritten or redistributed. We strive to uphold our values for every story published.