The Hague, Netherlands — A heart attack killed Slobodan Milosevic in his jail cell, the U.N. war crimes tribunal said, citing preliminary findings from Dutch pathologists who conducted a nearly eight-hour autopsy Sunday on the former Yugoslav leader.
The tribunal said pathologists had determined that "Milosevic's cause of death was a 'myocardial infarction'" - a medical term for heart attack.
Found dead in his cell Saturday morning, the 64-year-old Milosevic had suffered from heart ailments and high blood pressure, and his bad health caused numerous breaks in his four-year, $200 million trial before the tribunal.
A tribunal spokeswoman said it was too early to determine if poison could have caused the heart attack, saying a final autopsy report would be released in coming days.
Earlier, the chief U.N. prosecutor, Carla Del Ponte, had said claims that Milosevic committed suicide or was poisoned were "just rumors."
"You have the choice between normal, natural death and suicide," she told reporters at the tribunal, where Milosevic had been standing trial for more than four years on 66 counts of war crimes and genocide in Croatia, Bosnia and Kosovo during Yugoslavia's violent breakup in the 1990s.
Milosevic's body was to be delivered to his family today, according to the tribunal. But there was disagreement among relatives about whether he should be buried in his homeland of Serbia or in Russia, where his wife and son live in exile.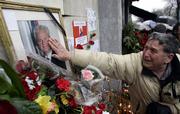 In Serbia, Milosevic loyalists burned candles in memory of their fallen hero at branches of his Socialist Party. Elderly women sobbed and kissed his photographs adorned with black cloth, while nationalists signed condolence books declaring him a defender of "Serb honor."
Tribunal spokeswoman Alexandra Milenov said the autopsy revealed Milosevic had been suffering from two heart conditions. Asked if poisoning could have caused the heart attack, Milenov said it was too early to draw conclusions.
She said the inquiry into Milosevic's death was continuing, with a final report expected to be released within days.
"I think we should also wait for that until we come to any final conclusions," she said.
Milosevic had appealed unsuccessfully to the war crimes tribunal last December to be allowed to go to a heart clinic in Moscow for treatment. He repeated the request as late as last month.
Copyright 2018 The Associated Press. All rights reserved. This material may not be published, broadcast, rewritten or redistributed. We strive to uphold our values for every story published.