The storm system that battered Lawrence on Sunday morning swept into northeast Kansas and northwest Missouri on winds that knocked over airplanes at the downtown Kansas City, Mo., airport and ripped roofs off homes, businesses and the Great Wolf Lodge Indoor Water Park in Kansas City, Kan.
The storm came on the heels of a powerful storm that produced tornadoes across southern Missouri and southern Illinois overnight, killing a married couple whose car was blown off the road and destroying homes along a path of more than 20 miles, officials said.
Emergency management officials reported no deaths or injuries from the storms later Sunday.
Severe damage was reported Sunday morning in Wyandotte County, where winds sucked off part of the roof at the Great Wolf Lodge water resort, tore roofs off numerous homes and blew windows out of the Indian Springs Shopping Mall in Kansas City, Kan.
Russell Archuleta, general manager of the lodge, said half of the skylight was gone, but no guests or employees were injured. The lodge was closed Sunday.
At Kansas City International Airport, the storm lifted a cargo container off the airfield and blew it into several vehicles, said spokesman Joe McBride. But only one Southwest Airlines flight was delayed during the hail storm, and the power went off briefly in Terminal A.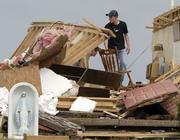 At the Charles B. Wheeler Downtown Airport, McBride said several private airplanes parked inside a hangar were damaged when gusts blew off the structure's door.
"There was damage of aircraft out on the airfield, too. They were tied down and some of them spun around," said McBride.
The strong winds and hail also caused damage in Leavenworth County in Kansas before moving across the state line, where it continued its destructive but nonlethal path in northwest Missouri. A high school in Orrick, in Ray County, lost part of its roof and other damage was reported in Carroll County.
A third storm system popped up Sunday afternoon, with hail - some up to baseball size - reported in several northwest Missouri counties including Clay, Ray, Cass, Bates and Linn. Preliminary reports indicated more trees down, roofs damaged and power outages, but no injuries or severe damage.
The first wave of storms Sunday struck the area straddling the Mississippi River from Missouri into Illinois. The tornadoes were part of a long line of stormy weather that stretched from the southern Plains up the Ohio Valley.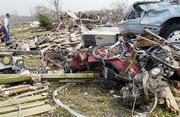 The worst damage was along a rural stretch of Highway 61 near St. Mary in Perry County, Mo., about 80 miles south of St. Louis, emergency management director Jack Lakenan said.
A twister caught a pickup truck on the highway and hurled it beneath a roadside propane tank, killing the husband and wife in the vehicle, Lakenan said. The wreckage of the pickup was wedged beneath the tank.
Also near St. Mary, mobile homes were tossed and a brick ranch house was split in half. Several people were injured and two were taken to a hospital in St. Louis.
Across the Mississippi River in Illinois, a tornado damaged several homes and businesses in the small town of Fults, and injured one person, said meteorologist Ron Przybylinski.
The Missouri State Highway Patrol said the tornado near St. Mary had wind of 113 mph to 206 mph. Softball-sized hail caused more damage and heavy rain prompted flash flood warnings in southern Missouri. The heaviest rainfall was 3 to 4 inches about 100 miles east of St. Louis in Illinois, said Jon Carney of the National Weather Service.
In Missouri's Jefferson County, just south of St. Louis, high wind struck a new subdivision, destroying seven homes.
High wind also tore the roof off a McDonald's restaurant in the tourist town of Branson.
Copyright 2018 The Associated Press. All rights reserved. This material may not be published, broadcast, rewritten or redistributed. We strive to uphold our values for every story published.