The Chi Omega sorority and Phi Delta Theta fraternity earned plenty of awards after the 57th annual Rock Chalk Revue Saturday at the Lied Center.
Photo Gallery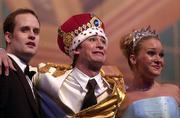 Rock Chalk Revue
For the production of "CinderEllie," the cast took home the audience choice award, best overall show, best choreography, best interpretation of theme, best script, best use of sets, best use of costumes and the best original song.
Cast member Abbey Murray won best actress. Greyson Clymer won best supporting actor.
Pi Beta Phi and Sigma Chi's "Rockin' the Boat" won best production number, and cast member Will Russell won best actor.
Kappa Kappa Gamma and Delta Upsilon's show "Rising Heat" produced the best supporting actress Jamie Wilkerson.
Delta Gamma and Phi Kappa Psi's "In the Club" took home the best pre-show video award.
A near sold-out Lied Center crowd viewed Saturday's final performance that included about 250 performers. All proceeds from the ticket sales during the three-night show will be donated to the United Way of Douglas County.
Copyright 2018 The Lawrence Journal-World. All rights reserved. This material may not be published, broadcast, rewritten or redistributed. We strive to uphold our values for every story published.