Miami — The Miami Heat were on a roll until they ran into Jason Richardson.
The Golden State guard scored a career-high 44 to win a shootout with Dwyane Wade and spark a 111-106 victory Friday, snapping Miami's 10-game winning streak.
Wade scored a season-high 42, making it the first time in the Heat's 18-year history that a player for both teams scored at least 40 points.
"I thought it was going to be a contest to see which one of us would score 50," Richardson said. "He's at the level where I want to be. You want to bring your 'A' game against him."
The Heat had the longest current winning streak in the NBA, although none of their past 10 games was against a team now above .500.
"We needed this win very badly," coach Mike Montgomery said. "It was probably a little surprising that it came in Miami as compared to some other places."
Nuggets 108, Raptors 97
Toronto - Andre Miller scored 23, and Denver overcame the loss of Carmelo Anthony, who left the game in the third quarter because of a strained left hamstring.
Magic 102, Cavaliers 73
Orlando, Fla. - Carlos Arroyo had 17 points and seven assists, leading a strong effort by Orlando's reserves.
Bucks 92, Celtics 86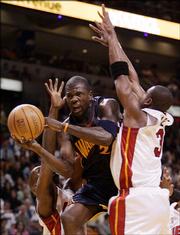 Boston - Michael Redd scored 26, including the go-ahead basket midway through the fourth quarter.
Pacers 92, Hornets 90
Oklahoma City - Peja Stojakovic scored 26 and hit a three-pointer from the right wing with 1:39 to play to give the Pacers the lead. The Hornets had a chance to win, but David West missed a three-pointer.
Lakers 100, Spurs 92
San Antonio - Kobe Bryant scored 29, and Los Angeles limited Tim Duncan to only 12. Bryant broke open the game by hitting five straight shots in the second quarter.
Clippers 107, Bulls 96
Chicago - Sam Cassell scored 32 to lead Los Angeles. Kirk Hinrich led Chicago with 21 points.
Kings 105, Grizzlies 93
Sacramento, Calif. - Ron Artest scored 19 of his season-high 30 in a gritty fourth-quarter performance.
Sacramento got back to .500 for the first time since late November.
SuperSonics 107, Timberwolves 96
Seattle - Ray Allen scored 38 points, his best performance in more than a month, and Seattle used a strong finish to beat Minnesota.
Allen made 13 of 26 shots and scored 21 in the second half.
Copyright 2018 The Associated Press. All rights reserved. This material may not be published, broadcast, rewritten or redistributed. We strive to uphold our values for every story published.