Chicago — Tens of thousands of immigrants from all over the Chicago area, many carrying U.S. flags, marched into downtown Friday to show support for immigrant rights.
Shouts of "Si se puede" ("Yes, it can be done") could be heard throughout city streets as the mostly Latino marchers descended upon the plaza across from the federal courthouse, where they listened to speeches backing pro-immigrant legislation and opposing a measure that would toughen penalties for illegal immigrants.
"Raise those American flags!" shouted U.S. Rep. Luis Gutierrez, a Democrat. "This is our country, and this is where we will stay."
The rally came as the U.S. Senate considers a bill to stiffen border enforcement and a new report estimates the illegal immigrant population has grown from about 8.4 million in 2000 to nearly 12 million.
Some marchers carried signs that read "Keep our Families Together," "No human being is illegal" and "Do not criminalize the American dream." Police estimated the crowd at more than 100,000.
Gov. Rod Blagojevich addressed the crowd in Spanish, telling them he is the son of immigrant parents and understands their issues.
The Democrat's proclamation that "ustedes no son criminales. Ustedes son trabajadores" ("You are not criminals. You are workers") elicited loud cheers.
Mayor Richard Daley told the crowd that "everyone in America is an immigrant."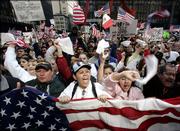 The march began at noon at a park several miles west of the downtown Loop business district. Hours later, marchers still thronged the Loop, clogging streets and tying up traffic. By early evening, traffic had returned to near-normal levels, police said.
Abel Nunez, associate director of a social service agency that was one of many organizations spearheading the event, said the goal was "to demonstrate to people that immigrants are here and we contribute to this country."
The Illinois Minuteman Project, affiliated with a national volunteer civilian border patrol group, held a news conference before the march began.
State director Rosanna Pulido said she doesn't want to see Chicago become a "sanctuary city" for illegal immigrants.
"There are 14 million underemployed Americans," she said. "Don't they have the right to have a better life and support their families? Let's give them an opportunity because this is their country."
Copyright 2018 The Associated Press. All rights reserved. This material may not be published, broadcast, rewritten or redistributed. We strive to uphold our values for every story published.