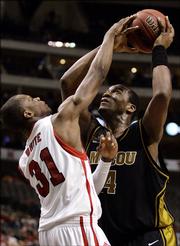 Dallas — Jamel White and Jason Dourisseau made sure all those missed free throws didn't lead to another early departure from the Big 12 Conference tournament for Nebraska.
White made a tiebreaking three-pointer with 1:15 left and added a key rebound after that to go with a couple of emphatic dunks by Dourisseau in the closing minutes of the Huskers' 71-64 opening-round victory over Missouri on Thursday night.
"The shot clock was going down a little bit. My teammates found me in the right place," White said.
The three-pointer from the right wing put Nebraska (18-12) ahead 67-64 in its first Big 12 tournament victory since 1999. He then grabbed the rebound at the other end when Thomas Gardner missed a three-pointer, and Missouri didn't score again.
"I feel really good for our team because they wanted to go play ball," coach Barry Collier said. "I thought our focus was really good. We started well again in the second half, pushed out to a good lead, but Missouri didn't stop. It was a tough game."
Missouri's first-ever loss in the opening round of the Big 12 tournament finally ended the school's 100th season of basketball, one that didn't provide any reason for celebration for the Tigers (12-16).
Missouri Coach Quin Snyder resigned Feb. 10, a day after he vowed to finish his seventh season - the first four ended in the NCAAs before NIT appearances the last two years. He said he was told by an athletic department employee that his contract would be terminated after the season.
The Tigers have consecutive losing seasons. Before last year, they had finished under .500 only once since their last back-to-back losing seasons in 1978-79 under coach Norm Stewart.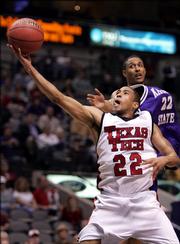 Texas Tech 73, Kansas State 65
Bob Knight managed to salvage at least one milestone from the worst season since his West Point days.
Despite poor shooting by scoring star Jarrius Jackson, Texas Tech beat Kansas State in the opening round of the Big 12 tournament.
For Knight, the best part was keeping alive the Red Raiders' streak of winning at least one game at the league tournament in each of his five seasons. This win also snapped a four-game losing streak, his longest at Tech.
Tech (15-16) next plays No. 8 Texas, the tournament's top seed, in the quarterfinals today.
Colorado 65, Baylor 61
Colorado almost didn't make it out of the first round against 12th-seeded Baylor. The Buffaloes missed their first 12 shots after halftime and had to overcome a seven-point deficit with a game-turning run in the final five minutes.
Baylor (4-13) was trying to become the first No. 12 seed ever to win in the tournament.
Copyright 2018 The Associated Press. All rights reserved. This material may not be published, broadcast, rewritten or redistributed. We strive to uphold our values for every story published.