As emerging stock markets surged during the past year, 102 people around the world won a much-coveted title along with their stellar gains - they became billionaires. But tepid returns in the United States ate into the fortunes of some of the richest Americans, including the founding family of Wal-Mart Stores Inc.
The number of billionaires rose by 102 to a record 793 during the past year, and their combined wealth grew 18 percent to $2.6 trillion, according to Forbes magazine's rankings of the world's richest people.
Forbes editor Luisa Kroll noted that Russia's stock market jumped 108 percent between February 2005 and February 2006, while India's market rose by more than 54 percent during the same period. Brazil "was another bright star," with a market gain of 38 percent, she said.
Kroll said the changes on the list weren't driven by U.S. investments.
"The more exciting story is these emerging markets," she said. "The U.S. stock market was quite a laggard, with only a 1 percent increase."
Microsoft Corp. founder Bill Gates was the richest man for the 12th year running. Gates grew wealthier, with his net worth rising to $50 billion from $46.5 billion. Investor Warren Buffett, the chairman of Berkshire Hathaway Inc., again ranked second; his fortune fell by $2 billion to $42 billion.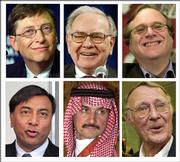 The rest of the top 10 underwent a reshuffling, with three familiar names dropping out of that select group: German supermarket company owner Karl Albrecht, Oracle Corp.'s Lawrence Ellison and Wal-Mart chairman S. Robson Walton.
Mexican telecom mogul Carlos Slim Helu moved up one notch to No. 3 with $30 billion, replacing Indian steel magnate Lakshmi Mittal, who fell one place to No. 5 with $23.5 billion.
Ikea founder Ingvar Kamprad of Sweden rose two slots to No. 4 with $28 billion.
Microsoft co-founder Paul Allen edged up to sixth place from No. 7, with a net worth of $22 billion. He was followed by France's Bernard Arnault, chairman and chief executive of LVMH and The Christian Dior Group, with $21.5 billion; Arnault was new to the top 10.
Saudi Arabian Prince Alwaleed Bin Talal Alsaud fell to eighth place from No. 5, with $20 billion; and Canadian publisher Kenneth Thomson and his family moved into the top 10, ranking No. 9 with $19.6 million. Hong Kong's Li Ka-shing rose to No. 10 with $18.8 billion. Ka-shing is the chairman of Cheung Kong (Holdings) Ltd. and Hutchinson Whampoa Ltd.
Copyright 2018 The Associated Press. All rights reserved. This material may not be published, broadcast, rewritten or redistributed. We strive to uphold our values for every story published.