They say that for every door that closes, another one opens.
Jeff Simmons' door finally opened earlier this year. But it was the door that closed because of it that caused him more distress than he'd ever imagined.
"Obviously it was an opportunity that I'd been looking for for years - ever since I started my racing career," Simmons said. "To have it come about that way was really difficult."
The 29-year-old was chosen by Rahal Letterman Racing in April for a spot in the Indy Racing League - a dream he'd spent his entire life chasing.
It caused him to lose sleep at night. He wasn't replacing a retired or ineffective driver.
He was replacing one that had lost his life on the track.
Paul Dana, a 30-year-old rookie, was killed on March 27 after a collision in a warmup session at Homestead-Miami Speedway.
"It came as a shock to me," Simmons said. "I knew that he'd had that bad crash, and I knew that he had been airlifted away, but I didn't know that it was that serious. I never actually saw any video of that crash until a couple of weeks later."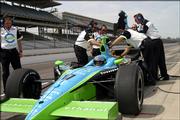 Simmons later received a call from Rahal Letterman, which was looking to fill Dana's No. 17 car.
His door had finally opened, but only because another had closed.
"Having so many thoughts run through my mind and trying to figure all that out, I was waking up in the middle of the night not being able to sleep because I was still thinking about it," Simmons said. "Normally I wouldn't get upset for anything really, but I was thinking so much that I would have to get up and write down what I was thinking."
Only after getting his thoughts on paper would Simmons be able to clear his mind. And also get some much-needed rest.
"It was kind of hard to think or figure out how I was supposed to handle it," Simmons said, "or how I was supposed to feel about it."
Simmons has dedicated his rookie campaign to the memory of Dana. He has also taken over the driver's passion for promoting the use of the renewable ethanol in the IndyCar Series.
"I felt I had a real responsibility to do everything I could to not only on the track be successful for the team and the sponsor, but to try to carry on and honor his memory and his belief," Simmons said.
So far, the rookie hasn't had the on-track success he'd hoped for. After five races, his highest finish has been 15th overall.
"Hopefully, if we can start running up front," Simmons said, "it can get fun again."
Simmons said the tragedy had not affected his mindset on racedays.
"This is what you choose when you're going to be a race-car driver," Simmons said. "This is actually what people look for is to have an opportunity like this."
Simmons vows he'll never forget where his came from.
Or the door that closed so that his could open.
"Normally you would just say you got this ride and you wouldn't think too much about the person you got it from," Simmons said. "But in this case, obviously I do."
Copyright 2017 The Lawrence Journal-World. All rights reserved. This material may not be published, broadcast, rewritten or redistributed. We strive to uphold our values for every story published.