It's the halfway point of his group's trip from the East Coast to the West Coast, and Jonathan Janis sat Tuesday in the hallway of St. John the Evangelist Catholic Church, ready for a break from riding his bike.
So, to relax, he and his buddies will help build some fences.
"This is an opportunity to make a difference," Janis said. "It's an adventure."
The adventure for Janis and the 30 others in the Bike & Build group involves cycling 80 miles a day, sleeping on hard church floors and spending their downtime painting, hammering and plastering drywall together.
All in the name of affordable housing.
The Bike & Build movement, started in 2003, sends groups of about 30 young men and women across the country by way of bike to preach the virtues of ensuring affordable housing for everyone - and to back their words up with actions.
The movement was the brainchild of Brown University students in Providence, R.I., and now young men and women from 18 states participate in the cross-country ride.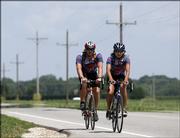 For many of the riders, the road has been difficult. Many, like Janis and fellow Tennessean Jessica King, had to buy biking equipment, pay for a plane trip to the East Coast and save money for the two-month trip - all out of their own pocket.
Then the actual biking begins. And although some of the riders are biking enthusiasts, many are novices, struggling along the road from June until August as they travel from city to city.
But, King said, it's in the name of education and building homes everyone can afford.
"You have to be passionate about the trip," King said. "It takes a certain kind of person to spend a summer biking 4,000 miles."
And those efforts have paid off. Over three years, the group has contributed more than $442,000 to housing groups to fund projects young people work on.
More about the organization
Most of that money came from the cyclists, who raise $4,000 before putting foot to pedal. The group hopes to raise an additional $300,000 this year.
But it's tough to put a price tag on their work. Without compensation, they'll spend the next two days in Lawrence building fences for Habitat for Humanity homes and speaking about affordable housing.
But Janis said he doesn't mind it. The work is fulfilling, he said - and a welcome respite from hours stuck to a bicycle seat.
"Really," Janis said, "it's a great break from our bikes."
Bike & Build in Lawrence
Today and Thursday, members of a cross-country Bike & Build group will help Lawrence Habitat for Humanity build fences in the Homewood neighborhood near 19th Street and Haskell Avenue. For more on Bike & Build, see www.bikeandbuild.org.
Copyright 2018 The Lawrence Journal-World. All rights reserved. This material may not be published, broadcast, rewritten or redistributed. We strive to uphold our values for every story published.