Baghdad, Iraq — Bombs killed at least 40 people at markets in two Iraqi cities Monday, hours after key lawmakers said seven Sunni Arab insurgent groups offered the government a conditional truce.
Despite the fresh opening between the government and the militant organizations - which do not include al-Qaida or Islamic terror groups - a top Iraqi commander said Baghdad's forces would not be ready to keep the peace for at least a year in Anbar province, the insurgent heartland.
And President Bush brushed aside expectations of a significant U.S. troop drawdown starting in September.
He said decisions on troop strength would be made by the new Iraqi government and based upon recommendations from Gen. George W. Casey, the U.S. commander in Iraq.
The latest bombings came as a reminder of just how difficult establishing security can be in many areas of Iraq.
Both markets were jammed with shoppers buying dinner provisions as temperatures began to cool after sunset.
The deadliest attack was a bicycle bombing in Baqouba, the Sunni insurgent stronghold 35 miles northeast of Baghdad. The bombing killed at least 25 and wounded 33, according to Dr. Ahmed Fouad, director of the morgue at Baqouba General Hospital.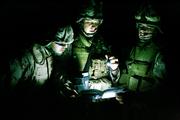 Minutes earlier, a blast killed at least 15 people and wounded 56 in Hillah, a mainly Shiite city 65 miles south of the capital, said police Capt. Muthana Khalid.
Police reports from across the country listed at least 22 other deaths Monday, victims of sectarian murders or bomb and shooting attacks. The U.S. military, meanwhile, said a Marine died of wounds suffered in combat in Anbar province.
The seven insurgent organizations who approached the government are mostly made up of former members or backers of Saddam Hussein's government, military or security agencies, and were motivated in part by fear of undue Iranian influence in the country, lawmakers said.
If confirmed, their offer would mark an important potential shift and could stand as evidence of a growing divide between Iraq's homegrown Sunni insurgency and the more brutal and ideological fighters of al-Qaida in Iraq, who are believed to be mainly non-Iraqi Islamic militants.
U.S. Deaths
As of Monday, at least 2,524 members of the U.S. military have died since the beginning of the Iraq war in March 2003, according to an Associated Press count.
Kurdish lawmaker Mahmoud Othman linked the offer to Prime Minister Nouri al-Maliki's national reconciliation plan, involving amnesty for opposition fighters except those who had killed Iraqis, were involved in terrorism or committed crimes against humanity. Al-Maliki's plan, disclosed Sunday, was thought to have denied amnesty to any insurgent who had killed American forces, though the wording was vague.
The Mujahedeen Shura Council, the terrorist umbrella organization that includes al-Qaida in Iraq, rejected the reconciliation plan.
"The servant of the crusaders, Nouri al-Maliki, has come forward with a new, sinister project aimed at extracting his crusader overlords from their morass," the organization said in an Internet statement.
Shiite lawmaker Hassan al-Suneid, who first reported insurgent groups' gesture, said al-Maliki was considering a possible meeting with their leaders or contacts through intermediaries.
Copyright 2018 The Associated Press. All rights reserved. This material may not be published, broadcast, rewritten or redistributed. We strive to uphold our values for every story published.