Mexico City — A week before they go to the polls to pick a new president, Mexican voters are sharply divided between a firebrand populist who promises to lift up the poor and an establishment conservative who embraces free markets and U.S. style capitalism.
For the first time in modern history, the once dominant Institutional Revolutionary Party is running a distant third and appears to have little chance of recapturing the presidency.
Opinion surveys released Friday showed a statistical dead heat between leftist Andres Manuel Lopez Obrador and conservative Felipe Calderon.
Marco Nunez, a Mexico City political consultant who worked for the federal government for 14 years, said the election and its aftermath will be a big test for Fox, whose conservative National Action Party has never overseen a presidential election. Until Fox's win, PRI candidates had held the presidency for seven decades.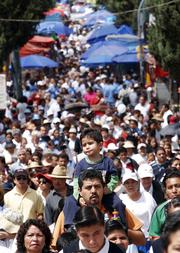 "It's very important for the government to control the situation," Nunez said. "It's very important for the world to know that Mexico is politically stable."
Many of the voters who helped Fox sweep away the old regime now feel disillusioned with his six-year reign. While the economy remained stable, most of Fox's promised reforms never got out of a divided Congress, drug violence exploded and job growth stagnated.
But disappointment with Fox does not directly translate into support for his party's chief opponent, Lopez Obrador, a member of the Party of the Democratic Revolution, or PRD. Many are afraid that the fiery former mayor of Mexico City will jeopardize the close relationship Mexico has with the United States or, worse, spark an economic crisis with runaway inflation and unbridled spending on social welfare.
The bitterly divided contest has left voters struggling over whether to go with their hearts or their minds - to vote for possibly radical change or stick with a safe, known quantity.
Copyright 2018 The Lawrence Journal-World. All rights reserved. This material may not be published, broadcast, rewritten or redistributed. We strive to uphold our values for every story published.