Chris Maxon has water-skied twice - and fallen down dozens of times.
"Today, I fell eight times," he said, laughing, Tuesday at the Mo Kan Ski Lake east of Lawrence.
He sat among a group of about 12 blind and visually impaired teenagers and young adults waiting for their turn in the water.
The 17-year-old was handing out advice.
"I don't give up," he said. "If you fall, you just keep going and keep going. You get better."
The event is part of an adventure fitness program for blind and visually impaired youngsters. Offered through a national organization, Camp Fire USA, the program helps the youths gain confidence and skills.
"I used to water-ski as a kid," Tina Jinkens, Camp Fire USA program coordinator, said with the wind in her face and a walking cane in her hand. "My family didn't let blindness get in our way, so we work with kids on exposing them to as many activities as possible so that they can be integrated into their community and so that the public knows that this is no big deal, you know.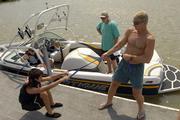 "Blind people are out there doing what everybody else is doing."
Water-skiing is just the beginning. Jinkens said she had taken groups of kids rock climbing, snow-skiing and tandem biking.
"You name it, we try it," she said. "It's a lot of confidence-building, leadership, working together. Blind and sighted kids participate, so that's important, too. It's not a blind world. We all have to work together."
A silhouette against the late afternoon sunshine, Camp Fire USA member Bryan Franklin was the first to stand up on two skis.
Cheers and applause erupted from the group of teenagers on deck when they heard the news.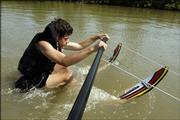 "Bryan's up!" Jinkens jumped up and down, smiling and shouting. "He did it!"
Back on dry land, Franklin, 22, soaked up the praise from his peers.
"I just like being in the water," he said. "It's fun, you know? I like just getting out and having fun."
Maxon, too, said the experience was all about having fun.
"Once you get out there," Maxon said, "it feels pretty good because you're standing up in the water. And, you know, you can't usually do that. You can try, but usually it won't work so good."
Copyright 2018 The Lawrence Journal-World. All rights reserved. This material may not be published, broadcast, rewritten or redistributed. We strive to uphold our values for every story published.