Brady Morningstar smiles into the television camera, all the while clutching an aluminum can in his right hand.
The Kansas University freshman won't be going far without it this year. Though he hasn't gained his desired "Freshman 15" just yet, he has a plan to put it on.
Ironically enough, that plan is Slim-Fast.
"Protein shakes here," Morningstar said, proudly displaying his chocolate drink. "That's what you've got to have - a couple of those every day."
In only his second week on campus, the 6-foot-4, 170-pound guard is trying his hardest to help his body catch up with his game.
It has been a struggle. He gained seven pounds after one season at New Hampton (N.H.) Prep School.
"I ate a lot up there," Morningstar said. "I know I'm stronger. I know I'm quicker."
Morningstar realizes he will have to be to compete for minutes on this year's talented Jayhawk basketball squad.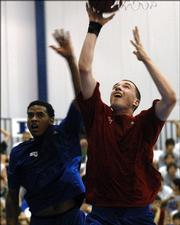 As the third member of Bill Self's recruiting class - and the only one who is not a McDonald's All-American - he will have to impress quickly.
Still, the Free State High product said he was willing to take on a lesser role if it would help the team's success.
"If I need to score three points a game with a couple of assists and a couple of steals, it doesn't really matter," Morningstar said. "I just want to win."
The guard did plenty of that in his one year of prep school.
As team captain, Morningstar led the squad to a 25-10 record, averaging 22 points, five assists and four rebounds per game. He also earned the Hugh Richardson Award, given to the team's Most Valuable Player.
"I think I proved myself going to prep school a year," Morningstar said. "I can play with big-time players. That's all they have in that league - big-time Division I players. I proved myself up there, and I feel good about where I'm at."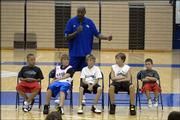 Kansas coach Bill Self also has been impressed with Morningstar, projecting he could have an immediate impact simply by knowing and accepting his role.
"He really knows how to make good players better, and not too many guys understand that," Self said. "A lot of guys playing with good players can't figure out that sometimes (others) are the best players and they need to get most shots.
"Brady will be a real chemistry guy for us. He'll know how to get a guy shots and do good things for us."
Self believes Morningstar will gain weight in college just as his father did.
Roger Morningstar - who played basketball at KU in the 1970s - only filled out after attending a junior college for two seasons.
The son chose KU after considering other offers from major Division One programs, including West Virginia and Tennessee.
As a local kid, he also has taken the time to help roommate Sherron Collins become accustomed to life in Lawrence.
"He's a great guy," Collins said. "He's from this area, so he's really just welcomed me and helped me out, getting around the campers and to class on time. He's been a big help."
Morningstar also has taken something from Collins and the other heralded Jayhawks, seizing every opportunity to improve his game.
"Everyone on this team is All-American this, freshman-of-the-year that," Morningstar said. "That's good because I'm on the same team as them. I'm learning every day from what they've learned in their past years. It's a learning experience. It's really helped me out and helped me mature on the court and off."
Junior guard Russell Robinson especially has taken an interest in Morningstar, helping him the most by offering advice and giving instruction during pick-up games.
"Every time he plays, he has something to say, which I take to heart," Morningstar said. "He's one of the best players in the Big 12, if not the best guard in the Big 12. He's been here a few years and knows what it takes to play."
Morningstar admits that each guard he goes against now is stronger than he. He's hoping it's something he can overcome in the long run with enough chocolate shakes.
For now, he's content to rely on his determination.
"It's tough, but it's a challenge," Morningstar said, "and I like challenges."
Copyright 2018 The Lawrence Journal-World. All rights reserved. This material may not be published, broadcast, rewritten or redistributed. We strive to uphold our values for every story published.